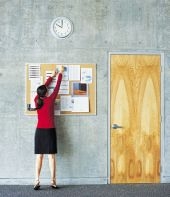 Brent Oxley is the CEO of HostGator, a web host that has been doing very well for a few years now. I know and have worked with Brent before and he has recently been experimenting with the public shame / praise model that I know works so well. It has been a longtime customer service technique and is more often than not, rather effective. In Brent's case, it seems like it has been effective.
The public shame and praise he chose to do was posting everyone's customer satisfaction scores on the company bulletin board in the staff lounge. The employees with the best scores were listed at the top and the employees with the worst scores were at the bottom of the list. Everyone sees this sheet every day and it couldn't be in any plainer view.
Brent told me "I know I would be as embarrassed as hell if my name was on the bottom of the list." He nailed it. This system is more psychological than anything else. There are no actual consequences from having your name on the bottom of the list (some companies cut the people on the bottom of the list every month), but it is really embarrassing. The fear of embarrassment is probably enough to motivate people to try.
I'm obviously pessimistic (not a common trait in customer service, I know). From the "glass half full" perspective, employees will want to show that they can do well. If they are on the top of the list, it's an achievement. They peers will see employee's name on the top of the list and will hopefully be envious. I am conceited enough where I would try to be on the top of the list for just that reason (I try to do my best at anything I do, though).
Regardless of someone's motivations for getting to the top of the list, it makes a difference. The system is time tested and effective. It has worked so far for Brent and HostGator. It works for a lot of other companies as well.
Here are some tips to drive even more results from your public praise and shame system:
Reward employees at the top of the list. Give them bonuses, even more recognition, etc.
Fire employees who are consistently on the bottom of the list.
Each employee that is at the bottom of the list should have to get coaching or help from a supervisor.
Consider posting a list for each day's scores. And then, another list for the month's scores.
Track other metrics that your company values.
This is just the tip of the iceberg. The system has a lot of potential and has worked well for many years and throughout many companies. I am an advocate of it and would suggest you start doing it if you don't already.
What would you do to make this system better? What sort of results have seen with this system?