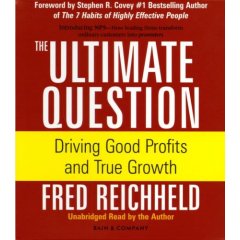 I work with a small technology company that has a reputation for being a great customer service company. The company is growing fairly quickly, and as a result of that, they're hiring more and more people. Their growth is great (their rate of growth is manageable, so they don't really have many growing pains), but as they hire more people, it becomes harder for the company's founders to watch the level of customer service. As the company grows, all the employees aren't as knowledgeable as the first couple of employees and the founders.
To help see how they're doing, the company decided to start surveying their customers. They started with a simple quarterly satisfaction (using Net Promoter) survey and are starting to do a ticket survey that is sent out after each ticket is marked as resolved in their help desk. The company managed to do it all for less than $250, too. Here is how they did it (with my help, but they could have done it themselves without any problems):
1) I already had a copy, but most people will need to buy The Ultimate Question: Driving Good Profits and True Growth by Fred Reichheld. It is a pretty good, 200 page book about measuring customer loyalty and satisfaction using the idea of Net Promoter. Total cost: $20
2) Purchased and installed the Lite Version of iSalient (survey software). The software is pretty user friendly – it only took me (a fairly non-technical person) about an hour to fully install and customize. Total cost: $197
The best part of this? It is only a one time cost. They can run this survey any number of times and can setup several other surveys to run as well. They already have the software and the knowledge. There is cheaper survey software (even free software) out there, but this company had already used and liked iSalient. A lot of the software is leasable or setup where you only have to pay by the number of respondents. This makes things pretty cost effective as well. $250 isn't that much for any company with a couple of employees. Having a good idea about the level of service you're providing and how happy your customers are is well worth the time and the financial investment involved with setting up some basic survey software and processes.
Take an hour, your credit card, and start measuring your customer satisfaction. You'll learn a lot about your customer service, your customers, and your company.
Technorati Tags: Customer Service Experience, Customer Service Representative, Small Business, Surveys