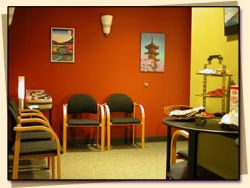 I had to take my car into for an oil change and tire rotation today. The representative promised me the service would only take an hour or so and I had a book to read, so I went to the waiting room and sat down. The waiting room pleasantly surprised me, though. It was a lot nicer than the typically bland waiting rooms you would see in doctors' offices. It left those types of waiting rooms in the dust.
This car dealership's waiting room (it wasn't even a sales waiting room – it was a service one) not only had a couple of magazines and fairly comfortable chairs like most mediocre waiting rooms, but it also had a big screen TV, popcorn machine, wireless Internet, a coffee maker, a bowl of fruit, three vending machines (if you need them), and computer workstations. The wireless Internet and computer workstations impressed me the most – you don't see them in waiting rooms very often.
The best thing about this waiting room was it made the wait bearable. I was able to get a bag of popcorn, check my email, and read my book while I waited for almost an hour. Like a lot of people, I usually find myself going crazy from boredom after 15 or 20 minutes in a doctor's waiting room. If I waited another half hour or forty five minutes in this particular waiting room, it wouldn't have been a big deal or an inconvenience. I had plenty to do to keep me busy and the experience was pleasant.
If you are going to have a waiting room, invest the time and money in making it a nice place to be. If you find your customers having (or choosing) to wait often, it makes the investment even more valuable. Creating a superior waiting room is not rocket science – it is just a matter of dedicating a little bit of time and the money to doing it. Once you do it, it's pretty much done. However, the rewards will continue for a long time. Your great waiting room room can make a longer wait tolerable, and maybe even enjoyable for your customers. That should be worth it right there.