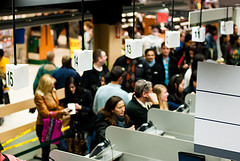 When I was in New York last week, I visited the famous B&H Photo Video electronics store on Manhattan's West Side. This very successful store's unique business practices and philosophies have been written about in countless books and magazines over the years and from visiting the store or dealing with them over the phone or online, you can tell why. I pulled up the company's philosophy on their website and found that it focuses on these five things:
– Our Easy Access Displays
– Our Educated Staff
– Our Partnership with Manufacturers
– Our Cutting Edge Inventory Tracking
– Our Liberal Return Policy
Needless to say, these things are very different than what you see or hear about from a typical electronics store. And what's more interesting is that when you visit the store or buy something from the company's store or website, many of these things are apparent. For example:
Easy access displays. You can try out almost everything on the floor at B&H. Instead of just looking at the boxes of headphones or of portable hard drives, you can put the headphones on and see how big the portable hard drives are. I didn't notice much that was just kept in boxes or otherwise inaccessible to customers.
Our educated staff. I didn't ask anyone there any questions, but there is no shortage of stories about extremely knowledgeable B&H employees. A friend of mine (who is from NY) went with me to the store and also spoke about how knowledgeable the employees are. What was also nice was the large number of staff members available at any given time. They were all over the store and there were also well placed information booths where customers could ask questions.
Partnership with manufacturers. B&H says it uses this advantage to let manufacturers show their "newest and hottest products to customers and staff." Doing this helps to ensure that staff members are knowledgeable about what products are available and how they can help customers. The store also hosts meetings in its conference center to encourage people interested in particular topics surrounding photography and video recording to come to their store and share what they know with others.
Inventory tracking. A system that makes special orders simple is a system that helps promote customer service. Beyond that, B&H has an elaborate and extremely unique system of conveyor belts and similar devices that move products around the store and to a pick up area. This helps cut down on shoplifting and employee theft and thus, helps keep prices low.
Liberal return policy. B&H isn't the only retail store that has a very liberal return policy (see this post on Nordstrom). A liberal return policy represents a desire to keep customers loyal to the company in the long run instead of just making money off of them in the short run. It's easy enough to not accept returns and keep the money from that particular sale, but it won't do anything to win customer loyalty. B&H places a premium on customer loyalty, which is why they have a liberal return policy.
B&H is definitely worth checking out if you're in New York and/or if you're in the market for any sort of electronics gear. They're a great example of a company that puts customers first and believes in being honest and straightforward with its customers.
If you're interested in reading more about this company's interesting business practices (including shutting down orders on their website on Fridays and Saturdays), check out this great article in Inc. Magazine by Joel Spolsky. It's worth a read.
Photo credit of the B&H checkout process goes to me (I took the photo when I visited).