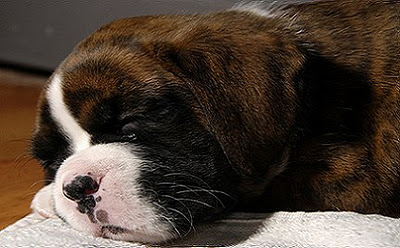 The airlines seem to frequently score high grades in the customer service rudeness polls, but every once in a while we need to acknowledge those who go above and beyond what is expected and congratulate the company for hiring and maintaining such excellent employees – you know those dedicated people who don't have to read those extra customer service suggestions in their manuals.
It seems that Continental customer service had some holiday magic this year. A four-month-old puppy named Whopper was scheduled to fly to Spain to meet his family, but he got stranded. It seems his owner didn't have the health certificates with Whopper signed by a veterinarian to allow the canine bundle of cuteness to board his flight. Equally as tragic, little Whopper wouldn't be able to be placed in a shelter or a pet hotel without proof that he had all of his shots. What is an adorable puppy with limited veterinarian records to do? Who would care for him? Where would he stay?
Yes, you guessed it! Airline attendants at Continental who had seen Whopper's canine boarding pass denied jumped right in to save the day and of course the pooch. Jane Bossi took the puppy home and sent daily emails and photos to Whopper's owner in Spain. When Bossi was due to leave for her Christmas vacation to visit her mother, another co-worker took over.
Continental Airlines does have a proactive program for the safe traveling of our four-legged friends. Their PetSafe program and their Pet Relocation services can relieve some of the pressure pet owners may experience when moving domestically within the United States or internationally like our little friend Whopper. And in the summer when the heat is unbearable and pet owners are warned not to fly with their pets, Continental uses pressurized temperature controlled cargo areas as well as expedited areas for on and off boarding on the tarmac for pets.
Thank you to the  special employees of Continental Airlines for taking care of Whopper.