A New Way of Doing Fast Food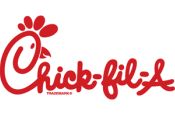 Earlier this afternoon I was in the mood to indulge myself with something I knew isn't good for me. To cure my craving, I visited a Chick-fil-A not too far from where I happened to be at the time. It isn't the one that is very close to my house (that one is in a mall), but a standalone Chick-fil-A, much like a traditional McDonald's or Burger King.
After navigating my way to the appropriate line at the drive through (I went in the wrong entrance, not Chick-fil-A's fault), I saw a new way of handling the drive through process for fast food restaurants.
Chick-fil-A still had the same line that stretches around the restaurant 16 times with 1000 cars in it, but they made more productive use of that line. There were essentially "stations" with various people about every 20 or 30 feet. They were as follows:
When I first pulled up, a man welcomed me and gave me a printed menu that was very thorough (I knew what I wanted, but it definitely explained everything).
You pulled up about 20 feet and another person, this time with a small clipboard, showed you another menu (this one had pictures) and asked you what you wanted. You gave him your order, he wrote it down, and then he handed you a small white piece of paper with your order on it.
The next station was where I gave a lady with a two-way radio my white sheet of paper. She called in the order and told me how much it'd cost. I was then instructed to pull up to the window.
At the window, you pay and you get your food. It's all ready for you (none of the scrambling they do at McDonalds) and based on your space in line, they obviously know how much you owe and what you're getting.
The result is a much faster process than the typical method utilized by fast food companies (you know, the one with the speaker and illuminated menu). It's also a better experience – there's no yelling, you're kept fairly busy the entire time, and there's little wait time. Chick-fil-A got me through the line in about 5 or 6 minutes, probably a third of the time it would have taken McDonalds. As a result of that, they're not only making their customers happier, but serving more customers.
The most important aspect of this example is that it is yet another illustration of how there is always room for improvement – even in processes that seem to be perfected, and at the very least, have been around for a long time.
For more reading on Chick-fil-A, see this post.