Bad Restaurant Customer Service
I saw this "tweet" on Jeremy Wright's (friend and former boss) Twitter feed yesterday:
Bad appetizer at restaurant (*really bad*). Waitress response: "well you'll know for next time". Hah. First time for that comment evar 😉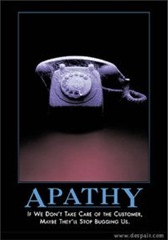 I laughed out loud when I read this. Then, I came to the realization that the waitress actually did say that. At point, I got a scary reminder of just how bad customer service can be. The particular phrase isn't on my "Big List of Things Not to Say," but I do feel it is implied.
There are so many things about that comment that are so bad. Here are my thoughts about the comment, how to avoid it, and what to do if it happens:
It is completely unacceptable. Saying something like that is completely unacceptable. If I overheard an employee saying that, I would fire him or her on the spot. If your company culture tolerates those sort of answers, your customer service has no shot at being any good.
Don't hire people like that. If at all possible, do not hire people who give answers like that. See this post on avoiding bad job candidates. If you have to, use personality tests and potential employees assessments. You must screen for (and avoid) people like that.
Train people to do the opposite. Part of your training should focus on being empathetic towards customers and their concerns, dealing with common problems (i. e. bad food in a restaurant), etc. If you train people to do the right thing, the chances of them doing the wrong thing will decrease significantly.
I don't know if there will be a next time at that restaurant from Jeremy. With bad food and bad service, I would hope not. It is a lot easier to lose a customer than it is to gain one. Make sure you aren't losing customers because of ridiculously unacceptable answers.