Black Friday Customer Service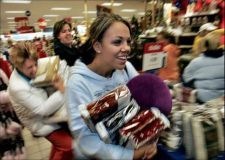 Happy Black Friday! Today is one of the busiest shopping days of the years – sparked mainly by very nice sales on popular products by major retailers. Stores open up as early as 4 AM (!) and many customers start standing outside before that. It's an insane shopping experience. And when there are insane customer experiences, you can predict insane customer service experiences.
I've already written about dealing with a rush. My main tips were:
Look at last year to see what will happen.
Overstaff (a lot)
Have the best people working.
Make it clear what people need to do. Lots of signs and explanations.
All of these apply on Black Friday and similarly busy days. Customers aren't going into stores to have a great customer service experience on Black Friday – they are going in to save money. That is their goal and everything you and your staff does that day should enable them to achieve that goal of saving money.
Since you know the customers want to save money, have signs and other informational materials telling them how to do that. Point out the best sales, point out what things will not get any lower, and so on. Tell your customers how to get there and how to make it happen and they will be pretty happy.
Another thing you want to focus on is customer flow. Retail design is not something I specialize in, but most retail designers try to design an efficient and productive flow for a store's customers. Your flow will be stressed on Black Friday so you may need to use dividers, arrows, etc. to help that flow.
Keep in mind that a lot of your customers will come in knowing exactly what they want. Plus, there will be competition. Because of those two factors, they won't spend nearly as much time browsing as most of your customers do. You will likely need additional cashiers and might want to consider setting cash registers up at alternative locations.
Other things that always have to be considered are security and janitorial. If your store looks like a dump by 8 AM, you're going to have problems and turn a lot of customers off. Similarly, if things are getting stolen or people are getting hurt, it isn't good for your business or reputation. Have plenty of managers on duty to deal with issues.
For more reading on this subject, see these two posts:
And by the way, these tips don't just apply to Black Friday. There are a lot of shopping days like Black Friday that will happen over the next month. You should do all you can to be prepared for them.
Now that Black Friday is in its home stretch, try to enjoy your weekend!