Book Review: Four Seasons – The Story of a Business Philosophy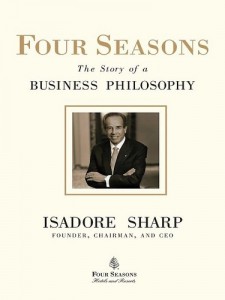 I just read Four Seasons  The Story of a Business Philosophy by Isadore Sharp, founder, chairman, and CEO of the Four Seasons Hotels and Resorts. The recurring theme in  the book centers around the Golden Rule; if you treat people well and the way you would like to be treated, they will do the same.
Sharp begins the book with his personal story. He came from a modest, unpretentious family with a background in construction. His first motor hotel (motel) opened in Toronto in 1961, and what made it different was his service oriented philosophy. By 1963, his second hotel opened called Toronto's Inn on the Park, and its resort style setting with its gym claimed instant success. By 1976, the opening of the Four Seasons in San Francisco which entered into a management contract for The Clift already defined true luxury.
When the Four Seasons in Washington, D.C. on Pennsylvania Avenue opened, the phenomenal service transformed the hotel owner-operator to a hugely successful management company synonymous with quality and the worldwide reputation of luxury travel. "One way to characterize Four Seasons – exchange of mutual respect performed with an attitude of kindness," states Sharp, and that same promise remains  today as the Four Seasons continue to have the highest rated 140 luxury hotels in more than 40 countries.
The Four Season's business plan focused on quality 24 hour service. In the 1970's, the concentration on exceptional quality set apart business travel. The introduction of hair dryers, concierge service, televisions with concealed doors, non-smoking rooms, and fitness centers provided service and luxury to the sophisticated traveler. Even today, the morning meetings remain an integral part of the four primary elements of the Four Seasons Hotels and Resorts property.
Every morning service, quality, and culture brand are set forward by the guest relations manager. This includes a recap of the guests staying at the hotel and discussions ranging from a guest needing a hypoallergenic pillow, gluten-free food, or even a special skin cream. The Glitch Report, which is a review of the previous day's mistakes is a way to make it right with a sincere apology and then doing something special for a guest later on. Every department is represented in the morning meetings from housekeeping to upper management. The team effort is what makes up the cornerstone of the Four Seasons culture, and trusted employees are granted the discretion to do the right thing to make their guests happy.
Sharp's personal tragedy and his philanthropy reveal the very human side of a vulnerable person. In November 1976, his son Chris, a strapping, six-foot-two athlete was diagnosed with deadly melanoma. On May 10, 1978 Chris lost his battle, but his spirit inspired The Marathon of Hope two years later when a local newspaper carried a story  of a young man Terry Fox who had lost a leg to cancer and was running across Canada on an artificial limb to raise money for cancer research.
Dear Terry:

The Marathon of Hope has just begun. You started it. We will not rest until your dream to find a cure for cancer is realized. I am asking every Four Seasons hotel to organize, along with the local branch of the Canadian Cancer Society, a Terry Fox Marathon of Hope Run to be held on the first Sunday in October. Beginning this year, it will become an annual fund-raising event for the Terry Fox Cancer Research Fund and we will not stop until cancer has been beaten.

Isadore Sharpe
Terry died the following year, but not before he learned his dream had come true. He raised one dollar for every person then living in Canada:$24 million.
In the last few pages of his book, Sharpe tells us who they are, and that is a company that manages the finest hotels, resorts, and residence clubs supported with a "deeply instilled ethic of personal service." And in response to how they succeed, Sharpe concludes with;
We succeed when every decision is based on a clear understanding of and belief in what we do and when we couple this conviction with sound financial planning. Our greatest asset, and the key to our success, is our people. In all our interactions with guests, customers, business associates, and colleagues, we seek to deal with others as we would have them deal with us.
Bottomline: The book is unpretentious, inspirational, and offers excellent advice about the importance of customer service. It provides some good lessons about the value of long-term service employees and how they are role models for new hires and front end advisers for improvement. The book offers excellent advice on training to help employees realize the importance of consistently amazing customer service.
Pros: The book provides a great personal story of a man who started out with little money and no training. Rising through the years of a sharp recession makes his story more pertinent today. The personal photographs brings in the humanity and compassion of Sharp.
Cons: There were few secondary sources. I found some of the foreign stories one-sided.
Interested: You can purchase this book from Amazon.com for $19.77 in hardcover format or $19.99 in Kindle format. You can buy it here.