Book Review: How to Talk to Customers
Douglas
April 29, 2007
Behind the Scenes, Book Reviews, Customer Service, Customer Service Experience, Employees, Etiquette, Exercises/Resources, Little Things, Big Differences, Service Untitled
4 Comments
I finished reading "How to Talk to Customers: Create a Great Impression Every Time with MAGIC®" the other day. It was an interesting book and one I'd like to review here at Service Untitled.
The book was written by Diane Berenbaum and Tom Larkin of a company called Communico Ltd. Communico calls itself a customer service training and consulting company. They have this proprietary process/set of processes they called MAGIC.
Here's what MAGIC is in a nutshell:
M: Make a Connection – Build the Relationship
A: Act Professionally – Express Confidence
G: Get to the Heart of the Matter – Listen and Ask Questions
I: Inform and Clarify What You Will Do
C: Close with the Relationship in Mind
MAGIC also stands for "Make a Great Impression on the Customer." There are 33 steps associated with the process – some of which are quite obvious, but still useful. The 33 steps almost serve as a checklist of sorts for many types of interactions, especially face to face and telephone interactions.
The book is divided into six parts: The Essence of MAGIC (what it is, what the benefits are); MAGIC – It's Your Choice (setting the stage/defining the culture for MAGIC); Build Magic Relationships (the actual "how to do it" part – concentrating heavily on Little Things, Big Differences); Express MAGIC Accountability (more "how to do it" stuff); The World of Magic (specific instances, culture building, face-to-face interactions); and MAGIC n Real Life (stories and closing thoughts).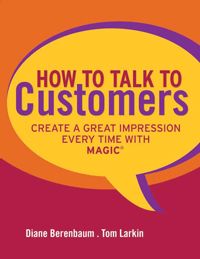 The book has a lot of real world examples filled with stories and firsthand accounts of various customer service or a lack thereof experiences (the stories are labeled as MAGIC or Tragic; good and bad, respectively). Each chapter contains a nice little summary (MAGIC Maxims), some good exercises (Experiment with MAGIC), and so on. Each chapter has a lot of plain language, practical advice in addition to a few statistics and study summaries that help back up what they are saying, and more importantly, the relevance of good customer service as a whole.
The book started out a little slow for me, but got very good near the middle. If you are new to customer service and its importance, the beginning would be more relevant, but if you already realize that customer service is important, it is a slight drag. The book picks up later, though, and starts coming out with some great, practical, and effective advice.
I'd suggest reading the whole book as an executive and picking out the practical, do it this way things and asking CSRs to read those sections. Get your highlighter out and mark sections you think would be useful to your employees. There is definitely something for everyone in the book. I learned the book was written to apply to different levels, so everyone could get value from it.
As with many customer service books, "How to Talk to Customers" includes a lot of stories and examples. I really liked the exercises (the 33 point checklist of sorts was the best part of the book) and can see how they would be tremendously useful for a wide variety of companies and employees. I would print out the "33 points" and pin them to every CSR's phone if it were up to me. Some of the stories of great and terrible customer service seem a little extreme, but overall, they are believable and realistic enough where the advice is useful.
I spoke to Tom Larkin, co-author of "How to Talk to Customers" last Wednesday. From talking to him, I could tell that he really believes in the power of customer service and the "Little Things, Big Differences" that I talk about. How close the topics I talk about on my blog and that Tom talks about in the book were surprising
Tom told me that the book was designed so it could be read by all levels (frontline, executive, etc.) and that all of the readers could get value. He also provided me with two, solid customer service tips worth considering:
If you use your last name in a greeting, it increases confidence. For example, you should say "Good afternoon, this is Tom Larkin" instead of "Good afternoon, this is Tom."
When you ask permission to get more information, it is a huge benefit. The customer and the representative end up listening more, and the representative gets more influence over the call. All it takes is a simple "May I ask you a few questions to resolve this quickly?"
Before the end of our call, Tom told me that what's common sense always isn't common practice. A lot of companies will experience a situation where they say they will do things, but don't end up doing anything. Following through with a dedication to customer service is definitely the hardest, but still the most rewarding part of the entire process. It truly is MAGIC when someone can deliver all 33 points that How to Talk to Customers addresses in a 4-5 minute interaction.
If you like the topics I talk about on my blog, you would probably find "How to Talk to Customers" a good read. They cover a lot of the "Little Things, Big Differences" aspects of customer service that I constantly preach about as well as the extremely important "big picture" element of customer service. This well written, informative book blends a nice combination of practical, "do it this way" tips and exercises with more strategic, "have your company act this way" advice.
Bottomline: A good read for an executive/manger interested in customer service, especially how to make a big difference through little things.
Pros: Well written, great stories and examples, healthy amount of "do it this way" exercises and tips mixed with some "academic" information to back it up
Cons: "MAGIC" as a concept is good, but how the book words and embellishes it can get somewhat tedious (simply cosmetic issue); starts off slow if you already know customer service is important.
Resources/Links:
I'd suggest checking out this link. It's an interesting (though slightly exergerated) quality assessment exercise using MAGIC. The best part, though, is it lists the 33 points and lets you hear them in action. You can also download a free chapter here [PDF format]. I'm working on getting another chapter available to Service Untitled readers.
Interested?
Those interested in the book can buy it on Amazon.com.
On a side note, I'm going to try and do book reviews every few weeks. I read a lot of books on customer service and business in general and I think books are a great way to learn. Hopefully, I can help you select the best books to read. If you have any books you'd like to see reviewed, please feel free to suggest them and I'll check them out.