Book Review: The Napkin,The Melon & The Monkey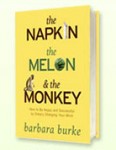 I recently read a charming, modern day parable geared to help employees handle the stress of the chaotic customer service challenges. The book works on suggestions to eliminate stress and help the employee build a framework for an improved attitude with what the author refers to as Aha!s.
Author Barbara Burke told me she based her suggestions of short periods of meditation and conditioning the mind in a positive way from basic Buddhist philosophy although each person can discover the book's universal wisdom message through their own particular lens.
The Napkin, The Melon & The Monkey: How to Be Happy and Successful at Work and in Life by Simply Challenging Your Mind follows the path of central character Olivia whose life as a customer service representative for a local power company is out of control with stress related over- eating binges, short tempered reactions to angry customers, and a strained relationship with her children and husband. She did not realize that, although our first reaction when being verbally assaulted by an angry customer would be to get defensive, or rather slip into the "fight or flight" mode, an emotional balance can be recaptured by emotionally detaching for a few moments enabling us to find inner peace.
It was another character, Isabel, who softly led Olivia toward that quiet path to eliminate knee jerk reactions to the everyday facets of stress and to be able to step back and observe what is and become more productive.
The acronym SODA – Stop, Observe, Decide, and Act is the author's solution to help employees realize that the anger of a dissatisfied consumer isn't personal; it's the frustration of the situation. Olivia was eventually able to temper her anxieties when irate customers called and step back, listen, consider the situation objectively and calmly, and then respond in a positive manner.
Barbara Burke fashioned the whimsical idea of this book from Steve Denning's popular story – telling approach and how it is easier to tell a story with a single protagonist whose accounts have universal appeal.
In the book, we are guided through the three main symbols along Olivia's path to handling the daily stresses of life; both personally and professionally. At the end of the book, we are treated to a list of Olivia's List of Aha!s reminding all of us of such basic guidelines easily incorporated into our own lives. Using such Aha!s as " The less I talk, the more I learn," or "There is no such thing as a difficult situation" employs easily applied tenets to help manage even the most challenging interactions professionally as well as personally.
The book has been translated into German; the title appearing when translated back into English – When Chocolate Does Not Work Anymore.
The author is offering a free downloadable  "Leader's Guide" with the purchase of the book. The kit contains a PowerPoint presentation and instruction of facilitating a team meeting. The topic is "What's Your Favorite Aha!". The kit will be ready in early February. To be notified, send Barbara a request at: bb (at) barbaraburke (dot) com.
Bottomline: A quick and easy read which reminds all of us we have a lot more control of our reactions. The book reminds us to stop a moment and put our lives into a more peaceful place in order to be more productive and efficient both professionally and personally.
Pros: It is well-written and has an interesting story line applicable to anyone in the current, stressful marketplace. The book includes some basic reminders which are universally appealing and applicable.
Cons: SODA is a great concept, however the book falls short of customer service strategies.
Interested: You can purchase the book (published by Hay House) for about $15 from Amazon.com. The book comes out on February 1, 2010, but can be pre-ordered today.