Building a business culture to deliver the best customer service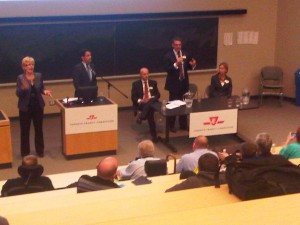 A strong business culture that is aligned with superior business goals outperforms their competitors by light years. These are the organizations who have figured out how to delight their customers and even make them smile. After all isn't the Zappos' motto "powered by service" incredibly motivational which delivers a message of trust and reliability? Zappos has worked hard to develop their culture resulting in a high percentage of return customers; a much more lucrative business model than having to find new clients.
Deciding on what a business wants to accomplish is part of its core values and related to its overall culture. Customer service should be one of the top priorities, and the commitment to pleasing customers and delivering "out of the box" services should never be discouraged. When building a culture all employees need to participate, all levels of management needs to encourage and inspire, and business owners need to place themselves as role models to encourage the process.
As businesses grow they may evolve and change since each employee brings their own values and practices to an organization, but the key is to search for employees who have the same passion for excellence and empower those employees to act on their own and go out of their way for the sake of their company. Think of the Ritz Carlton employees who are empowered and constantly encouraged to treat each customer as an individual and react accordingly with each situation – whether it be sending out for a bouquet of flowers for a couple's private anniversary celebration to a new bed pillow if a guest complains about it being uncomfortable.
How employees act and what they do should all be written out and shared by all employees, but assuming a company strives to build a positive business culture the following culture elements should be considered:
A commitment to employees which provides superior training to empower company personnel to do the right thing for customers on their own without having to refer to a manual and providing the employee with all of the tools needed to make their own decisions for the welfare of the organization.
Building the company's integrity by always following the Golden Rule and honoring return policies, special promotions, and treating both customers and other employees as if each person is truly treasured and respected.
Effective leadership guides the basis for a strong culture and the motivational tools needed to help employees understand the company's role as a positive business model.
Having the company focused on customers and fulfilling their needs and wants without just focusing on the profit of each business exchange.
Retaining valuable employees by rewarding them with higher salaries, bonuses, rewards and recognition for jobs well-done.
Communicating with customers and displaying customer service phone numbers and email addresses on every page of their websites so customers know an organization is always willing to listen to a customer if there is a problem. Remember most customers won't tell a company what went wrong; they just leave and go on to your competition. Make it convenient for an unhappy customer to find you, and act accordingly to resolve the problem.
Don't make customers go through a maze of automatic questions when they are calling for customer service or make customers wait for any extended period of time. Where IRS can take their time and really aren't too worried about how taxpayers feel concerning the waiting time, their business is quite unique, but otherwise unpopular.
Hire the best employees and don't limit the time they should be on the phone or spend in person with a customer who needs help. Instead ask for public feedback and written communications from customers about their experiences. Grade employees on their service and what customers say about them – use rewards for the very best. Recognize employees to their peers which will then encourage other employees to excel.
Have pride in your organization and develop its culture to be synonymous with honesty, teamwork, communication, innovation and a leader in customer service. The examples set forth by the foremost leaders promise a successful and profitable business when we strive to be the best of the best.