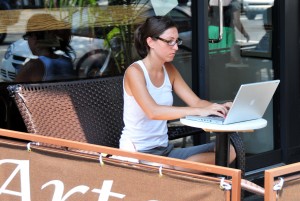 The buzz phrase "social listening," also known as social media monitoring, can help organizations and businesses be more effective and build stronger brand relationships. For those of you who are unfamiliar with the concept, media marketing software combines both monitoring and analytics to help us listen, understand, and engage. Through Facebook and Twitter, conversations can be measured to help attract new customers, and ultimately these customers can become advocates helping our businesses to grow.
Perhaps the Dell story with the "power to do more" further explains the concept of "social listening." Dell's social media 10,000 employees are tuned into more than 25,000 conversations about Dell every day claiming the more information gathered, the better the company will be able to deliver the precise products and services customers want. The company considers social media an extension of their brand, however it's not that easy, and it's not just about purchasing the software. Michael Dell's "direct-to customer-heritage" starts with training. At the Social Media and Communities University, associates are fully trained and then empowered to listen and focus – transforming "online ranters into ravers." Eleven languages, 24/7 availability, and participating in social media for the sake of the company, help Dell to continue growing stronger brand relationships with customers.
One can't separate however, customer service with "social listening"; as Dell states it is a key part of the brand. The company combines customer service phone calls, social media engagement, online strategies, traditional print advertising, and everything in between to further Dell's recognition.
Once upon a time, businesses would learn how customers felt about them through polls, surveys, and focus groups. Now with "data mining," specific keywords on social networking, websites, and blogs can identify what is being said, where it is being said, and who is saying it. Of course, the anonymity of sitting behind a computer screen can easily make for bogus complaints, (unfortunately there are no mental stability tests required to type on a computer) but knowledge is a way to be prepared for an action plan if needed.
This information can come from Google Alerts to sophisticated applications, but knowing what to do with the results is as important. Obviously, one can't join every social network on the Internet, so identifying those who need your product or service, and then joining and being active, will help to build a solid customer base and hear what people are saying about your product and services. Search out the competition, and make your business stand out through customer service and excellent products.
Make customers advocates of your organization and ask those who love your products and services to spread the word. Listen and learn because social media isn't just about a sales pitch; it becomes a reflection of you.