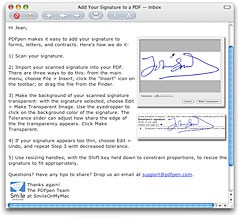 This is a terrific guest writer post by Jean MacDonald from SmileOnMyMac. I wrote about the company's awesome newsletters back in October.
Offering a free trial to download is a standard technique in the software business. The trial may be limited in timeframe or features, but the idea is the same: get potential customers to try out the product. When they see how useful it is for them, they'll happily purchase it.
But downloading and installing software is not the same as trying it. Many people, myself included, might download something that looks interesting one day, but never make time to actually try it out. This is a gaping pothole on the road to a sale. To fill it in, we decided to try out a technique known as the "autoresponder".
With the help of our email marketing service company eROI, we set up a series of email tips that customers would receive on a regular basis after they installed the software. The first time they launched the software, an alert appears, asking for a name and email address. The tip emails were designed to say, "Hey, remember me? I'm that useful application you installed. By the way, here's something cool you can do with it."
I admit that I was a little skeptical about what kind of response we'd get. People are already suffering from inbox overload — would they really voluntarily sign up for more email?
They did sign up. Not only that, we started getting fan mail for the tips. Nice notes like these:
"Thank you so much for your helpful emails re: DiscLabel. I like the program and your
support makes buying the program even more appealing. I'm on my way to download the paid version right now."
"Just wanted to let you know that I find the mailing list tips for PDFpen and TextExpander enormously useful. What a great idea!"
"The e-mailed tips are welcome, they are interesting and useful, and they do give the impression that you care – even to a cynic like me!"
And some even blogged about [including here at Service Untitled] how helpful the emails were and how they demonstrated our commitment to a great customer experience.
What had started out as a strategy for encouraging more purchases became recognized as a great resource for people who had already purchased. Customers love to find more uses for something they already own. The reason these emails appeal to potential buyers and current customers alike is that they are truly useful. They are not just a sales pitch. Here are some guidelines to help you write tip emails that your customers will find valuable.
Find out what questions your customers are really asking.
Before deciding on the topics for tip emails, it's important to make sure that your content will be relevant. In my case, the company co-founders are also our lead developers and customer support representatives. We looked at what questions kept coming up again and again.
Find out what questions they don't know to ask.
When we start planning a new version of one of our software programs, I will survey our current users. I always ask them about how often they use the various features of the software, and one of the options is "I didn't know I could do that." If a significant percentage of customers say they didn't know about a certain feature, that makes it a good candidate for a tip email.
Make it brief.
Focus in on a specific topic and try to keep the length to 150-200 words. It needs to be brief enough for the user to read in less than a minute. A longer email might prompt some folks to say "I'll read that later when I have time," significantly reducing the chance they'll read it at all. If a couple emails pile up without being read, not only will your customers not get the benefit of your tips, they might even unsubscribe from all your emails.
Use an illustration or two, but don't overdo it on graphics.
Include a screenshot or other graphic that helps explain your tip. It is important to remember, though, that many people don't load images into their email by default. Your tip need make sense without any illustration.
We just use a small company logo in the signature of our tips. Much more than that, and your tip might be mistaken for a sales pitch. This is not what your customer signed up for, making it more likely they'll unsubscribe or, even worse, click the "Spam" button.
Encourage sharing.
In a P.S., we ask users to send us their own tips, which we post on our blog. And we get ideas that help shape future tip emails!
Writer Bio:
Jean MacDonald is the Marketing Director at SmileOnMyMac, a software company that develops productivity tools for Mac OS X. Before joining the company, she was the principal of Well-Tempered Web, a web design and internet marketing firm in Portland, Oregon.