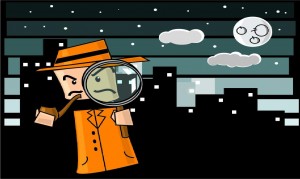 If you have ever tuned into the CBS show "Undercover Boss" where owners and corporate executives work undercover to examine their own companies, it is indeed an interesting concept that has aroused some significant awareness and changes in organizations. Of course, there's always some interesting drama associated with the television production, but it's that individual attention and demand for fair treatment and loyalty that sustains success and growth for all of us.
While it may not be necessary to don a disguise with a fake beard, hair dye, and bushy eyebrows, why not use the idea and do some anonymous shopping of your own to determine what customers want, what customers get, and how skillfully and competently customers are getting what they want? For instance, if it's a big company and you're rarely in "the trenches," maybe it's  time to go shopping? For a brick and mortar establishment, buy something, ask for help, and ask some difficult questions. Are employees knowledgeable about their products? With an Internet based business, order off of the website and check how efficient the ordering process is and how efficiently orders are handled. Ask a friend to order something; get an objective opinion.
So let's assume the staff is well trained, industrious, customer service oriented, and all around great employees in the sales or service department, but what happens when a customer isn't satisfied? Most employees deem it much easier to make the sale, or contribute to the desired service, but when there's a problem, the solutions too often go awry.
Most customers begin the complaint route with the telephone. The job of keeping people calm after they've been on hold for what may seem like an extended amount of time can set the pace for impatience and short tempers. If I've had a pleasant experience buying a product and I was treated fairly, chances are I will remain loyal and pay more because it has made my life easier, but that's rarely the end of the transaction. The real test of time comes somewhere down the road if the product breaks, fails, or the customer needs to reach out for extra service or assistance. Customers aren't going to call you if everything is fine, but be aware the protocol for pleasing customers far more than they expect will exponentially lead to more referrals, more business, and faster growth.
Customer service, therefore is a department not to be decreased because sales are down. Look to the problems being reported and document each and every issue. Here is the time to identify problems, fix them, follow up, review and apologize. Here is an event that can show a customer that you care, and through careful monitoring by rectifying problems in a timely manner, show customers they really matter.
It's a win, win situation which most likely will leave a smile on someone's face.