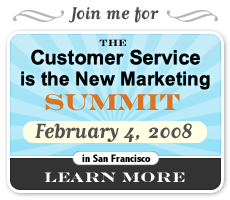 I'm proud to be involved with a conference that will be going on in San Francisco in February called Customer Service in the New Marketing. It is a one day summit that focuses on customer service and its convergence with marketing.
The summit is being put on by the company behind Get Satisfaction (reviewed here). I'm helping to organize the event and it has been very exciting.
So far, we have a lot of great speakers lined up. We have leaders from companies like Zappos.com, Ning, Virgin, Timbuk2, Flickr, and more speaking at keynotes and participating in two great panels. As someone involved with helping to line up speakers, I can say that we put a lot of effort into putting together a terrific (and industry / job diverse) speaker lineup.
The summit is a really great opportunity to not only learn about customer service and how it is extremely relevant in today's business world, but also to meet a lot of interesting people. I'm really looking forward to meeting a lot of executives and leaders that believe in the importance of customer service.
The summit is being held in San Francisco on February 4. If you're interested in speaking or sponsoring the event, post a comment here and I can put you in touch with the right people.
If you're interested in attending, you can use the code SUBL to get 15% off the ticket. All the details of the summit and the link to register can be found at the summit's web site. This isn't an event you want to miss.