Communities as Parties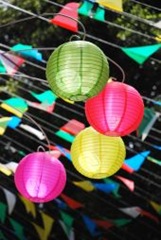 At the Customer Service is the New Marketing Summit a little under two weeks ago, Matt Mullenweg (founder of WordPress project and the company Automattic) used a great metaphor to explain how good communities function – he described them as a party.
I'm really surprised more people didn't latch on to this metaphor when they wrote about the summit. It seemed to be very well received at the time and I still think it is a fantastic metaphor. It is almost certainly a metaphor I will use when I find myself having describe the function of communities to my clients.
Before you dismiss this as some buzzword loaded rubbish (which is what I sometimes do when I hear comparisons like that), listen to my interpretation and summary of Matt's right on metaphor.
Parties that are successful bring the right number of people together. Those people end up having a good time and having fun. They will hopefully come for whatever their purpose is and achieve that sort of goal (having fun, learning, meeting people, etc.). When people achieve their particular goals and have fun, they leave feeling happy.

Good parties almost always have good hosts. It is their job to keep the size of the space appropriate for the number of guests, plan the party, get people involved, and keep things rolling. The host not only needs to be the organizer of many things, but sometimes the life of the party and cheerleader. Sometimes this is is necessary, but not always.

One or two bad guests can ruin a party and make it miserable for almost everyone. A space that is too large or too small for the number of guests can make for a bad party. A party with a terrible host will likely be bad. Sometimes parties are really great or really bad for no apparent reason.
Now replace every use of the word party with community, every use of the word guest with member, and host with community leader. Matt didn't take his metaphor quite as far as I did above, but as I thought more about parties and as I thought more about communities, I couldn't help but see the striking similarities.
Think about some of the points listed above and how they tie into communities:
If communities are too big or too small, they may lose their desired effect.
Great communities have members that have fun and achieve their appropriate goals and purposes.
Great communities seem to have great community leaders / facilitators behind them. There are ones that don't, but a majority of the time, they do.
If you take part in a community with 50 forums or 150 community features for 10 members, it is the wrong sized space. 3 forums for 5 million members is the wrong sized space as well.
Community leaders have to keep communities engaged and entertained. They also have to deal with the administrative side of running a community – keeping the community clean, dealing with troublesome members, organizing things, etc. Again, this isn't always necessary, but it is needed most of the time.
Bad members can sour a community very easily. Dealing with them is a big challenge, but they're necessary.
A community with a bad community leader will have a hard time being successful.
Communities are sometimes ridiculously successful or unexplainably terrible for absolutely no reason.
If you don't understand or appreciate this metaphor, then I'm not sure if you really get communities and what they're all about. This is one of my favorite non-technical metaphors for sometime relatively technical like an online community. Big thanks to Matt Mullenweg for thinking of it! (Apparently, Lee Lefever also/originally came up with this idea.)