Consumer Reports says Apple does customer service better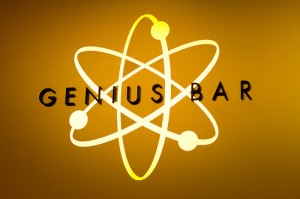 The ultimate success of a company is predicated on exceptional customer service experiences. For post-sales service, Consumer Reports ranked Apple Customer Service ahead of other companies for best PC tech support with the company scoring an 86 out of a possible 100 points. The survey included 6,313 owners of PCs and laptops and explored their experiences with technical service over the past year via telephone, online communication, and in-store help.
According to Consumer Reports, Apple's in-house technical support service, the Genius Bar, rated as high as telephone and online services stating as many as 88% of problems are addressed in person. So peeking in at the Genius Training Student Workbook chock full of Apple "Dos and Don'ts," we can understand the psychological mastery of an organization that clearly understands when you make people happy, they tend to buy more. The training manual concentrates on the psychological aspect of customer service and builds the learning experience with role playing. Within the compressed 14 days of boot camp however, and while learning the emotions and skills of happy customers, the bottom line is always to be in the "business of selling."
So before the new Genius dons his blue official Apple blue shirt, sales and customer service training teaches:
A  APPROACH
P  PROBE
P  PRESENT
L  LISTEN
E  END
Apple students learn the lessons taught in most service industry jobs, and that is one of being helpful and knowledgeable. With that comes the soft approach; don't be pushy. Build a confident relationship with a customer, and find out what they need and then present choices as what to buy. Hear the customer out, and as the deal is finished, let it be done in such a way that the customer feels he is the one who made the choice. In practice sessions, the new Genius puts himself in a customer's shoes in order to understand every interaction and how to successfully mingle skills and sentiment into one satisfying and successful endeavor.
The learning techniques have become so refined as Geniuses learn to take ownership, have respect,  and show empathy to achieve those good vibes which affect all of us while we consider buying a product. The best sales people are those who customers genuinely like; those of us who know how to make customers happy before, during, and after the sale.
And even if a customer doesn't rally over to the Genius Bar for personal human contact, Apple Support provides video tutorials, community support forums, online product manuals, and easy, user friendly links. It's a positive experience wherever one might decide to find help because it's never a "crash" – rather one's Apple may have "stopped responding." It's never a "disaster" – rather an "error" occurred, and instead of "eliminating" the problem – the problem is "reduced."
The Apple Genius Bar is a cheery place to visit; perhaps not the "happiest place on Earth," but darn close in the technical world.
Photo courtesy of kaichanvong via Flickr