Customer service is not an option for medical and dental practices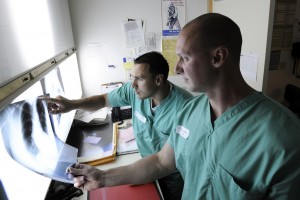 Medical and dental practices should provide their patients with positive customer experiences; after all aren't we as patients still consumers who pay for services rendered either through our insurance companies or directly out of our debit accounts? Once upon a time a patient would never think of questioning a physician's rude bedside manner,  never twitch the slightest dissatisfaction when made to wait hours in an uncomfortable waiting room with outdated magazines, or even speak out when having to deal with a rude staff. Fortunately that has all changed. From digital signs on busy highways showing shortened waiting times in local emergency medical facilities to expedient office staff, the new faces of medical care seek customer loyalty by creating positive experiences.
From the moment a patient calls for an appointment, the expectation for services begins. How long does it take for someone to answer the phone, and are you put on hold for any extended amount of time? Does your call during office hours go to voice mail? Patient satisfaction begins with a member of the staff personally answering the phone. Why not stagger employee schedules so the heavy hours of phone contact – perhaps during lunch hour can reduce patient waiting time thus reducing frustration and anger? Even waiting rooms have come a long way. Straight back wooden chairs used to line the walls of doctor and dentist offices. Now comfortable furniture set in inviting waiting rooms with late edition magazines and soothing music welcome a patient and makes them immediately feel more comfortable and connected in what is now the competitive field of health care.
Physicians can build their own relationships with patients by knowing a patient's history before entering the examination room, immediately inviting the patient to speak, and then reviewing their chart sitting in front of the patient with direct eye contact. Patients want to know the process, and as doctors and dentists whose positive interaction with patients develop, a new culture for the entire office revolves around making people feel important – not just a human body wearing a white paper gown.
Helping patients to navigate their way through the complexities of medical procedures and jargon, making available community resources convenient for patients, providing a list of support groups and helping patients find appropriate educational tools to aid in their own medical or dental care builds relationships and enhances the productivity of both physician and patient.