Customer Service Representative Stress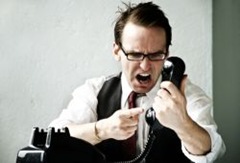 Being a customer service representative is a stressful job. There have been plenty of articles, books, and blogs written about just how stressful a CSR job is. However, I feel like I'm going to add my two cents and write about the stress of an average customer service representative.
The level of stress as a customer service representative depends entirely on the company an employee works for. I've seen representatives that love their jobs as CSRs, but that is because they work for great companies that care about customer service.
On the other hand, I've seen customer service representatives who hate their jobs. They work for companies that could care less about customer service and care less about them as employees. They put unreasonable controls and policies in place and everyone hates their job. As a result, the employees often give inferior service. As a result of that, the customers get mad and yell at the employees. Everyone gets stressed out and no one is happy.
Being a customer service representative at a company that doesn't usually provide good customer service is stressful because the customers are usually stressed out and angry themselves. The job turns into a viscous, unrelenting cycle of one angry customer after another.
Besides the actual angry customers yelling and screaming at the representatives, what are some of the things that can stress a regular customer service representative out?
Bad managers. It seems that there is no shortage of terrible call center managers, especially the shift and floor supervisors. Some are really great, but others are terrible.
Worse executives. The ultimate blame should be put upon the executives who are setting policies and procedures that are unreasonable and don't allow for the provision of good service.
Call times. The companies that track call times and discourage longer calls are actually working against their customers and subsequently, themselves.
Strict procedures. Procedures should serve as guidelines, not scripts or policies that are set in stone. It's impossible to script and predict everything, so procedures that are inflexible are a waste (and an additional thing to stress employees out).
Bad computer systems. Bad computer systems can stress anyone out, especially when your job depends on them. Having to wait for bad computer systems, try to figure out ways around them, etc. can make a job that has the potential to be okay very bad.
What are some other things that you think might stress out customer service representatives? Anonymous Cog – are you reading?