Dealing with an unexpected rush.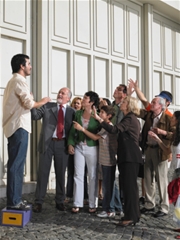 My post on Monday talked about dealing with the rush in general. This post was supposed to go up yesterday, but there was slight confusion. Today's post talks about how to deal with the rush that is unexpected.
Have formal operating procedures.
The first step to being able to deal with that huge, unexpected rush is to have formal operating procedures in place about how to deal with the said rush. Like any other operating procedure, your procedure for dealing with a big rush should be thought out, written down, and employees should be aware of it (and know how to do it).
Get the staff in.
Get as many employees as you can to work. Call them at home and get them to come in. Explain things are really busy. If you need to, pay them more than usual – give them a bonus at the end of the day or pay them time and a half. Whatever you have to do, do it. You'll need extra help.
Remove people from jobs that don't have to be done right that second.
You probably have bookkeepers, designers, marketers, stock people, etc. around that work for longer term things. Or they work behind the scenes. When you are really busy and can't get enough , you need to move them to the frontlines. What you do with them depends on their expertise and what is needed (see below).
Use people that aren't as experienced as support, not leads.
You know the bookkeepers and accountants you just took from behind the scenes? Don't make them your star employees from the day. Have them do support roles. That way the people who are more used to being on the frontlines can do other things. What exactly a support role is varies from business to business, but it can be anything from assigning ticket numbers routing phone calls to directing customers to the right line.
Delegate simple tasks that can be done right.
Every business has simple tasks that can be done right (like the ones discussed above). I would delegate all the simple tasks (like routing phone calls) that are easy to do and can be done right (easily). This will let your more experiences representatives concentrate on the more complicated things.
Apologize to customers.
Your customers can probably tell things are really busy. However, you should apologize to them. Apologize about the wait. Apologize about things being a bit hectic. Apologize about it taking four transfers to get them to the right extension. Just explain that things are busy, everyone is trying their best, and that you sincerely appreciate their patience and understanding. (Don't make excuses if possible.)
Offer to follow up later.
For customers that you feel could use extra attention, but you lack the time to do it during the busy day, offer to follow up later. If they accept (which many will), actually follow up. Offer a private appointment. Offer for them to come in next week. Just offer to follow up and then actually do it.