DreamHost Fiasco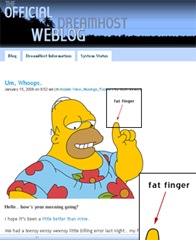 DreamHost is a web hosting company that has been around for a while. The privately owned, California-based company is well known for generous space and bandwidth allocations, relatively good web hosting services, and for a laid back attitude. This week, though, has probably been one of the toughest weeks in the company's history.
On Tuesday, the company's billing system messed up (due to human error) and billed thousands of customers when their accounts weren't even due. The amounts charged totaled in the millions of dollars and the charges caused some customers' checks to bounce, debit cards to be stopped, etc. A lot of accounts were also shut down for non-payment when a payment wasn't actually due for another year. In short, the entire issue was a big mess.
In addition to the mess and tremendous hassle of all of those billing errors, the real thing that DreamHost didn't do as well as they should have (and what got all the media coverage) was the way they initially responded to the situation. They posted a ridiculously informal blog post (titled Um, Whoops) saying the issue was caused by a fat finger and essentially dismissing the seriousness of the whole situation.
By the book, the content of DreamHost's first post was appropriate. They what happened, why it happened, explained what was going to happened, explained why it wouldn't happen again, and offered to provide help for any problems. The content was fine, but the tone was inappropriate and uncalled for.
As the media coverage continued, DreamHost realized they messed up and posted another blog post the next day. This post was what they should have done the first time. It was genuine, informative, and serious. The company offered some additional options and courses of actions for frustrated customers (including letting people back out of contracts early and receive a pro-rated refund). DreamHost explained some major modifications in their billing system and provided a much needed update.
The following day (Thursday now), another update and explanation was posted. It was slightly less formal than Wednesday's "serious" post, but did not mock the event. More updates and statistics were provided and the issue is now basically resolved.
DreamHost did a good job in the sense that they quickly realized their mistakes and acted to fix them (both technically and with their communication). They provided frequent and honest updates. And from what they say, they got the actual problems sorted out pretty quickly.
DreamHost will hopefully have employees reach out to frustrated customers and media sources over the coming weeks, but I'm not sure this will happen. I don't think the company has a PR department and I don't think they have any sort of blogger or customer outreach program. If they don't, now is a good time to get one.
This issue is something that will haunt the company for a long time and will cost them a lot of money. They've learned a valuable lesson. I'm pretty confident they won't be making the same mistake again.