Engaging Customers In Action: Recognizing Them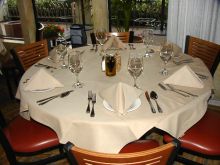 I've talked about the importance of engaging customers on a human level before. It's critical to an excellent customer service experience and it's critical to making the difference between an above average and an exceptional customer service experience. The companies (and more so, the employees) that can engage customers at a more human level are the ones that are going to see their customer satisfaction scores coming in as 10's as opposed to 8's or 9's.
I was at a nice restaurant this evening with some family members and the waiter engaged us on a human level. We've been going to this restaurant for quite a while and we've seen this waited plenty of times. We hadn't been there recently, but he remembered us (he said "welcome back, good to see you again") and when another person at our table asked him a question about how he's been doing, he told us about a several month RV trip he took around the country.
The story about the trip was interesting – the waiter and his wife had taken their RV to about 40 states over about 6 months. They had seen most of the country's major cities and national parks and had an overall great trip. He wasn't rushed when telling it and took the time to answer any questions we had. It definitely brought the experience from a good to an excellent level. He engaged us on a human level and certainly made ordering our food and drinks much more interesting. When the story was effort, he remembered (very accurately) what we usually ordered to drink and to eat.
This waiter not only recognized as regular customers, but he responded to a customer's question in a manner that went above and beyond. He engaged all of us and gave us something to talk about after he left. It was a great experience and one that only reinforces the positive views I've had of that restaurant since we started going there six or seven years ago.
For more on restaurants and customer service, check out this post that I wrote back in July of 2006 (though it's still quite relevant). I apologize for not posting yesterday – I did not get home until pretty late and didn't have a chance to write up a post for the day.

Technorati Tags: Customer Service, Customer Service, Customer Service Experience, Customer Service Representative, Personality, Waiter, Restaurant