Expedited Shipping as an Incentive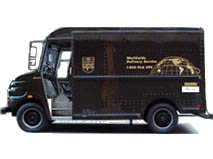 I am a big advocate of giving credits to help "ease the pain" that customers feel when they're inconvenienced by one thing or another. What a lot of companies often neglect offering to customers is something that is usually just as (If not more) important: expedited shipping.
Just how much sense expedited shipping makes for any particular company will vary greatly. Large companies that ship a lot of products (and thus have a lot more leverage with their preferred shipping company) will find expedited shipping to be a lot more cost effective than small companies that don't usually ship products. The cost of expedited shipping depends on the product, the shipping company, and perhaps most of all, what your company means by "expedited." Some companies consider expedited faster than two weeks, others consider it faster than 24 hours. These are all things you'd want to look into and make decisions about before offering expedited shipping to customers.
Expedited shipping makes perfect sense for any sort of issue relating to an order delay. If the order is delayed a day or two from the factory, make that time up by upgrading the shipping from ground to next day air. If there was a problem with a product that is supposed to be deliver in a week, fix the problem and upgrade the shipping. Including expedited shipping as an option of possible incentive to customers certainly broadens the possibilities.
You can also use expedited shipping as a credit-like offer. Apologize for the inconvenience and say the customer's next order will be shipped via next day air. That may make a bigger difference and a bigger impact than a $10 credit. When that one customer calls to ask if there are any discounts, instead of offering him or her a 15% off coupon, upgrade the shipping instead. You don't necessarily have to upgrade it to the highest level, so that builds in quite a bit of flexibility.
The most important thing to remember is that there are more creative ways of "easing the pain" than just throwing money at customers.