Feedback Survey from Skype
Not that long ago, I wrote about how I received a terrific auto-response from Skype. It took them a lot longer than 72 hours to reply (the reply was useful when it finally did come, though) and now I am writing about their feedback process.
Firstly, they sent a very nice looking email less than 24 hours after the issue was resolved (click for full size):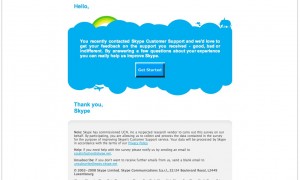 Not only was the email nice looking, but the message was well written – it was both personal and professional:
You recently contacted Skype Customer Support and we'd love to get your feedback on the support you received – good, bad or indifferent. By answering a few questions about your experience you can really help us improve Skype.
When you click on the big Get Started button, you are led to a third party survey web site that asks the following questions in a survey that was divided into two parts:
Skype Survey Part One
Overall, how would you rate the experience you had with Skype Customer Support? (multiple choice)
To help Skype continue to provide a high standard of service, would you please tell us what we did to earn your satisfaction? (open ended)
Was your question to Skype Customer Support resolved? (yes or no)
How would you rate the ease of contacting Skype Customer Support? (multiple choice)
How satisfied were you with the speed in which Skype Customer Support responded to your question(s)? (multiple choice)
How many times have you contacted Skype Customer Support regarding this issue?
Skype Part Two
Overall, how satisfied were you with this specific Skype representative's service? (multiple choice)
Did our Skype representative treat you like a valued Skype customer? (yes or no)
How would you rate your Skype representative's email response? (matrix, see below, click for full size)
How quickly do you expect a response from Skype when you send an email? (multiple choice)
How likely are you to use Skype in the next three months? (multiple choice)
How likely is it that you will recommend Skype to a friend or colleague? (Net Promoter scale)
What is your main use of Skype? (multiple choice)
If you were given the choice, how would you prefer to contact Skype Customer Support?

Overall, a fairly lengthy, but very thorough survey. It is one of the better written and most relevant surveys I have seen. It asked a lot of great questions that support organizations could learn a lot from. The questions cover the actual issue handled as well as the broader product and support focus at Skype.