Find More Honest Employees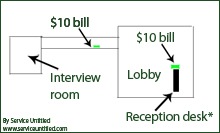 This thought came to me fairly randomly – partially based on an experience with a friend who had been very honest (and was later rewarded) and partially based on a discussion with a colleague about out of the ordinary interview techniques and content (a subject that has always interested me). So, keep that in mind – this is very random. I'm not quite sure if it is even legal.
How does my idea work as an interesting addition to a job interview?
While you are interviewing a potential employee, instead of asking 20 questions about ethics, honesty, morals, etc., place a $5 or $10 bill somewhere in a hallway that the candidate will have to walk by him or herself. See what the candidate does with the money – does he or she pocket it, leave it there, or turn it in?
Exactly where you leave it probably doesn't matter, as long as the candidate will be very likely to see it and it isn't completely obvious: leave it right outside the building's door, in a hallway, near the reception desk, etc. If it is right outside the interview room, it may be too obvious. Make sure it isn't in an area that is too busy or someone else might beat the candidate to it.
I have used my (terrible) graphic skills to draw out a diagram (see above, click for full size) of how this could possibly work. The diagram leaves two possible locations for the $10 bill – about three quarters of the way down a hallway and near a reception desk. If it is placed near the reception desk, the receptionists have to be distracted and not paying attention to where the bill is.
I think this serves a purpose, though. It identifies three types of employees:
Indifferent or oblivious employees will either not notice or leave the bill. They aren't bad, but aren't good, either.
Dishonest employees will put the bill in their pocket and walk out the door without saying anything.
Honest employees will hand the bill in to someone at the reception desk or the interviewer.
This could really work for retail or hospitality (i. e. restaurant) companies that have issues with employees stealing. What do you think? Could this work? Is it even legal? Has someone done it before?
Click here for a full size version of the diagram above.