FYE Customer Service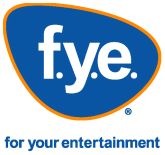 For Christmas, my parents gave me several DVDs that they purchased at FYE. Of the four DVDs they gave me, I wasn't particularly interested in seeing two of them (it's the thought that counts!) and went to return them at the store last night. I figured I'd have about $36 from the return that I could put towards some new DVDs.
I go to FYE every now and then and have always had okay experiences. Not bad, not great. I've always been fairly indifferent towards the store, which for a store I don't shop at too much is just fine. However, my most recent experience annoyed me as both a customer and a customer service writer and consultant.
I had receipt for the DVDs and the credit card that was used for the return. I went into the store and browsed around for a while. I picked out two DVDs that I liked and figured I would even have some money (roughly $8) left over to use for a future purchase. I took everything up to the counter, waited in line for a bit, and got to the employee.
The first employee was friendly enough. She seemed a bit confused about how everything was going to work, but she was working. I gave her my name, address, etc. for the return. Apparently, though, what she was doing was not working because she went away (without saying a word to me) and got someone else to help her.
This second woman (who I think was named Tonya) did not even acknowledge me (I was simply he for the entire customer experience). Tonya talked to the first employee about what was going on (and what I/he bought and did) and apparently there was a problem (I was not told of this). I gave my name and address again and that did not matter. There were still problems and she asked for the credit card to refund the extra $8 or so. They couldn't give me a gift card, but that was fine. I gave her the credit card and then I was suddenly made aware of a sale that my parents took advantage of that included buy two DVDs, get one free. One of the DVDs I was trying to return was the free one (since it was the cheapest). The sale was no longer going on, so the value of my DVD was $0.00. The receipt said it was valued at $7.99 or whatever it was, but apparently there was a sale on "select items" which had completely disappeared and was no longer valid.
That was the fatal flaw in the experience. The whole point of bringing in a receipt for a purchase is to have the clock set back to the time of purchase. If prices change, it doesn't matter – the receipt is the way of proving that. Apparently, at FYE, that is not the case. The sale was no longer going on, so I didn't have the option of picking a new DVD to get for free or getting a refund of the price of the DVD at the time of purchase (which I think would be fair). Tonya didn't want to honor what the receipt said.
I pointed out to Tonya that I was getting a refund of $0.00 for one of the two DVDs I was trying to return and that I might as well keep it. She really didn't appreciate that observation and it made her even shorter and ruder than before. Reluctantly, she gave the DVD back. I paid for the second DVD I wanted and left. Not one apology for the misunderstanding or hint of empathy from anyone.
Personally, I found the situation to be unethical. I can see and understand FYE's position, but I think the practice is generally unethical. A receipt should let you set the clock back. The experience was horrible. Tonya was the quintessential example of an employee who clearly did not like her job/the customers she was dealing with. The experience was just a negative one and I don't forsee myself shopping at or recommending FYE again.
This situation can teach customer service providers a few things:
Keep your customers in the loop. One of the reasons this experience failed completely was because no one told me what was going on, took any time to explain anything, etc. Keep your customers in the loop and let them know what you're doing and why you're doing it.
Acknowledge the customer. Tonya should have introduced herself and addressed me by my name. They had my name (I gave it to them twice) and never used it. Using "he" or "she" when the customer is standing right there is unacceptable.
Don't be cheap. I had expressed interest in buying more DVDs at FYE (hence why I asked for a gift card) and was obviously an interested customer. If I were Tonya, I would have just given me the 8 bucks and have been done with it. Nordstrom would have done that. Most stores would have.
If you can't, be nice. If the computer wouldn't let Tonya do it or she would get yelled at by her manager for doing it, that is okay too. It isn't really about the eight bucks for me. She could have apologized, expressed empathy, or done something besides just glaring at me. There is always something you can do and she did nothing.
I filled out the store survey mentioned on the receipt and will send the URL of this post to FYE. Let's see what, if anything, happens. In the mean time, I think I will buy my DVDs from Amazon.