Gas Station Customer Service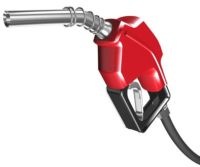 I used to live in a state where other people pumped your gas for you (New Jersey). Now I live in a state where people are responsible for pumping their own gas (Florida). Needless to say, when I first moved to Florida, having to pump my own gas was weird. Since the weather is usually pretty good, it isn't a big deal, but I have had to learn how to use the various interfaces at gas stations.
I'm not sure if it is Florida, but gas stations seem to have the worst user interfaces. While the systems aren't difficult to use or confusing, they just don't work well. The interfaces seem antiquated at best. I definitely think an innovative design firm (IDEO comes to mind) could make huge improvements.
From my experience, BP seems to have the best interfaces. Their pumps just seem to work better than other pumps than do. Their interface seems more up to date and the pumps seem to be designed better.
One gas station I go to does some little things to try and make the experience better. They have little signs up called "quote of the day" with quotes from various famous people. They also have a sign up saying how they do some sort of filtering that most gas stations don't do.
Things like that help make gas stations better. The individual gas station owner probably does not have much control over the pumps and how they are designed, but they can definitely work to make nice little improvements. They can also work to take better care of the station than many of them.
Unfortunately, customer service is often judged by how service is elsewhere in the industry. The best customer service companies don't compare themselves to people in their industries, but companies that are known for providing great service in any industry (Ritz Carlton, Nordstrom, whoever).
I've never worked with a gas station before, but I imagine there are plenty of ways to improve the customer experience. Work on improving the interface, offer some additional services that might interest folks, other things like the quote of the day.
The most important thing is to always be looking for ways you can improve. No matter how small the change, a whole bunch of little things make a big difference collectively.