Get Satisfaction Launches

My friends at Satisfaction Unlimited launched their product, Get Satisfaction, late last night. I first got in touch with the guys behind Get Satisfaction in July and have had several conversations with them since. The team is a great group and their product is really interesting.
The company describes Satisfaction as people-powered customer service. I think that is a good way to phrase it. For both consumers and companies, the product is incredibly useful. Consumers can get their questions about a variety of companies and products answered by other consumers and companies don't have to answer those questions.
For example, I wanted to ask when the new MacBook Pros were coming out. Most customers would call Apple, but since I was fortunate enough to be a part of Satisfaction's beta, I just posted it there. Here is the link if you want to check it out.
I got several useful and in-depth replies. The answer I got from Satisfaction's users was better than the "We don't know" that I would get from someone at the Apple Store or on the phone.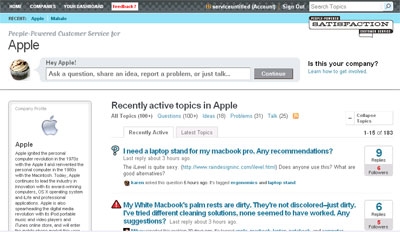 An example of Apple's section on Satisfaction.
My example is just one of many. Satisfaction users (and often employees from these companies) are providing answers for questions about products and services from companies like Pownce, Twitter, Oracle, HP, etc. Officials from the company can respond and get answers and help customers as needed.
Companies should watch Satisfaction, especially as it grows. It will be a great place to get (and respond to) feedback and see what questions customers are asking. Consumers should start using Satisfaction because it is a great place to get answers to your questions.
If I were Satisfaction, I would be concerned about a few things (some of which I know they're working on):
Ensuring the site just doesn't become a complaint forum.
Ensuring companies have a fair chance to voice their opinion.
Ensuring the community has plenty of active contributors.
I'm confident that the company will be able to deal with any problems that come up. I'm looking forward to seeing this site develop and seeing what users do with it. The product has a lot of potential.
I suggest signing up for their beta and playing around with the site. Get a site setup for your company or if you work for a company, get yourself approved as an employee / representative.