Happy Birthday to Service Untitled!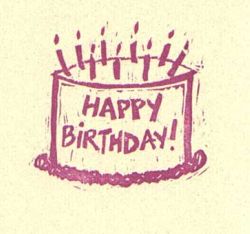 It was on my calendar, but I completely forgot to write about it until now: Service Untitled turned two years old today (it's a blogiversary). The post I wrote last year was a bit more eloquent, but I'm going to say essentially the same thing this year.
For the last two years, I have blogged about customer service and the customer service experience every single Monday thru Friday (except holidays and occasional days when I'm sick).
I have to say I really like doing it and what I like even more is getting the chance to talk to and meet such interesting people. Not just the people I interview, but the other bloggers, customer service professionals, employees, journalists, and plethora of people I talk to and/or exchange emails with every week. It helps humanize some of the subscriber numbers and makes the writing process a lot more interesting.
The people you meet through blogging (especially customer service blogs) are fascinating and the experience of meeting, talking to, and even working with these people is probably the main reason I keep writing every day.
You can't take people for granted, though. I am eternally grateful to the amazing people I have met and have had the pleasure of working with through my blog and my consulting work. This includes the wonderful group of customer service bloggers that help me (and I try to help them), my consulting clients, the individuals that allow me to interview them, the people who write guest writer posts every so often on Service Untitled, my advertisers, and everyone else.
Most importantly, this includes my readers. Without the readers, writing this blog would be far too academic and self-reflective (I have never kept a diary consistently). I am thankful to have such a great group of readers – a group that not only reads my posts, but takes the time to email suggestions, post comments, refer my blog to their friends and colleagues, and talk about my blog.
I've written another 290 or so posts over the last year. My readership has increased significantly and I continue to get a lot of positive feedback about my blog. It is still exciting to see a post of mine featured on another blog or to see my blog linked to in some random blog's blogroll. It shows that people reading and enjoying my blog, which is always good to hear.
If my posts are helping companies, individuals, and organizations to improve their customer service and their customer service experience, they're doing their job and I'm doing my job. I'm looking forward to continuing to my job — as a blogger, as a writer, and as a consultant — for many years to come.
Thanks for the great two years. With your continued support, I am sure there will be many more.
Technorati Tags: Birthday, Blogging, Blogiversary