Help outside of the help section.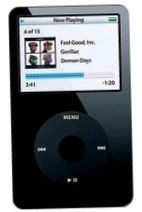 I know this is the second time this week I've written about Apple, but I actually had this idea in the queue before I even ordered my computer. I had also talked about a very similar idea with an executive from a company just a few days before I got this particular post idea.
If you use an iPod (like I do – mine looks a lot like the one to the right), you may know about the "On The Go" playlist feature. A lot of iPod users don't use it (I rarely do), but if you have ever navigated to the menu and look at the playlist when it's empty, it does something interesting.
What the iPod does that is so interesting (to an extent) is display help documentation about how to use the on the go playlist feature. It actually makes a tremendous amount of sense to display how to use the feature when it isn't being used. What would Apple put there otherwise – probably something saying "No songs in this playlist." or something stupid. When you add songs to your on the go playlist, the help message goes away.
This entire aspect of help tips and information within an actual program (or in this case, an interface) and more generally, outside of the help section. is a great idea. More and more products are starting to implement the help within the product idea and that is because it makes so much sense. Customers seem to prefer help within the actual software or interface because they then don't have to go out of their way to navigate to a separate help section.
Something companies should also do is consider having more help information show when customers just start using a product or service. Then, as they use the features more and get more accustomed to the nuances of the software, the tips and information slowly disappears. It is a classy way to help new users without really forcing it upon them.
I am going to write a post next week about one of the main benefits of moving help outside of the help section: teaching customers how to use parts of your software or service that they may not be familiar with already.
Think about where you can put tips and similar help within your software or within the interface of the product you design. Moving help outside of the help section makes a lot of sense – your customers will probably use it more, it will probably be easier for most customers to understand, and it can teach customers how to use products and features they may not use.