Holiday Cards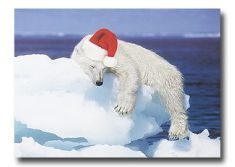 It's that time of year again. Many of you have likely already put your holiday cards in the mail. I just put about half of mine in the mail yesterday and am working on the next batch now.
Here is how I managed my holiday card process:
Purchased cards.
I went to the Hallmark store and got four boxes (yes, I send a lot of cards) of a nice card type. It wasn't holiday-specific and was pretty modern and upbeat.
Customized envelopes.
Each card obviously came with an envelope. I set my printer to print on the envelopes – that way I could type them out. This required some trial and error, but I got it working. To add to the general effect, I matched the font and capitalization style that was on the inside of the card.
Create list.
I sent an email out to most people on my mailing list asking them to send me their update address. I imported this list into Microsoft Word and it started printing envelopes. I soon had all the envelopes I need already addressed and ready to go.
Write out cards.
This is the most time consuming part of the process, but also the best part. I wrote out a nice little note to each person. Since I don't send out that many (read: I don't send out hundreds), I'm able to customize them. Many of them had a general theme, but I don't think any two cards had the exact same message. What they each did do was:
mention the date (December 2007)
say Happy Holidays on them
address the person by his or her first name
Once I was finished writing out the card, I would put it in the appropriate envelope and put that card in my "ready to be mailed pile."
Seal and stamp.
I can't stand licking envelopes, so I tape them. I taped all the envelopes and put a stamp on them. Before sealing the envelope, I double checked that the name matched the address on the card. The stamps weren't holiday themed, but that's fine. Once the cards were checked, stamped, and sealed, I put them in the mailbox and off they went.
For some more on this subject, check out this post from last year. What is your holiday card sending procedure like? Later this week (Thursday), I will post some sample holiday card sayings.