How good are your grammer and spelling?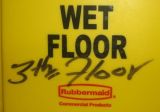 Regular (and careful) readers of my blog will inevitably come across a typo or an awkward sentence in one of my posts. Some readers will even contact me and let me know about the more obvious ones that slip through. 
While I'm usually pretty good at avoiding errors in my posts, the quantity of posts I write, my inherent lack of an editor, and the relatively informal style of writing that I write my blog posts with makes errors inevitable. Even with an occasional error, though, I still have better grammar than a lolcat and never use resort to using chatspeak.
But some, even in professional situations, don't have better grammar than a lolcat and do use chatspeak.
A surprising number of companies and customer service supervisors don't place any sort of emphasis or seem to care much about employees using proper spelling and grammar when communicating with customers. The companies may care officially, but judging from what their representatives type and send out, the rules don't seem to be enforced. It is quite likely that you have been in a customer service live chat or seen an email from a customer service representative that was filled with spelling and grammar mistakes, many of which were painfully obvious and incredibly easy to avoid.
While no one expects a customer service representative to write like Shakespeare or Steinbeck (if they can, they should consider changing jobs), they should be expected to fully spell out words, to use punctuation appropriately, to be able to use the right "your", to know the difference between than and then and to and too, and so on. Most of the things that people mess up on are simple things that everyone was taught in middle school (and probably before that). The correct usages are readily available online and very easy to test representatives on. Improper spelling and grammar is a terrible way to lose customer confidence because it is so easy to avoid.
After you finish reading this post, check out some of the emails that come from your company and/or take a few minutes to monitor some of the conversations going on through your live chat. What type of spelling and grammar is being used? Does it present the image that you want to present?
And just in case you didn't realize, the errors in the title of the post were intentional.