How ramping up customer service is paying off for Home Depot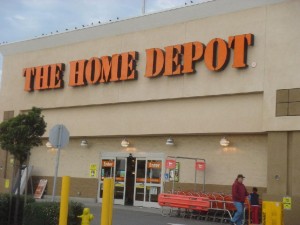 Years ago when contractors were so busy building houses, supply giant Home Depot paid a lot more attention to the builders than to the do-it-yourself home owners. After all, the economy was booming and a realtor could scarcely keep any home inventory available for new buyers, and so the prices kept climbing while customers lined up at the cash registers. But then the economic bliss balloon burst, contractors removed their magnetic signs from their trucks, and people once again began to pay more attention to their budgets; thus a new chapter in do-it-yourself home improvements was reborn.
Last week, the Los Angeles Times told the story of a 53 year-old Burbank postal clerk woman who decided to do some home improvements to upgrade her bedroom. Off to Home Depot she went, and much to her pleasant surprise was greeted with immediate attention. In fact, the woman stated she was asked by three different orange-aproned  associates if she needed any help. The same good news emerged about Lowe's. Whereas the smaller Ace Hardware organization who has always been customer-centric towards the homeowner and known for their exceptional customer service, the larger companies have now joined in to improve their own customer service scores.
Home Depot scored an overall ranking of 95.81 – ranking number 30 out of 553 companies that have a Customer Service Scoreboard rating. Both Home Depot and Lowe's sales, profits, and shopper satisfaction scores increased; Home Depot stock shares rose 74 percent while Lowe's stock shares rose 35 percent.
So what are these home improvement giants doing to improve their customer service? Well-trained employees who have relevant information from their own experiences and who are given the advantages of the latest learning resources add to the value of a customer experience. Inexperienced employees are trained and empowered to make customers happy. Arthur Blank, co-founder of Home Depot owes the success of the organization to the thorough knowledge of trusting business relationships and excellent customer service.
Perhaps the most famous story of Blank's commitment to customer service and its vital importance began when the company was still quite young. An older woman walked into one of the Home Depot stores and wanted to return four tires. Home Depot never dealt in tires, but the woman insisted she purchased the tires through Home Depot. Blank refunded the woman the money for the tires:
"Refund the woman all of her money for the four tires. Although those tires weren't sold to her by Home Depot, her satisfaction of returning those tires is worth the life-long customer relationship that we will create with her," stated Blank after speaking to the confused employee who didn't know what to say to the determined woman.
Those four tires still hang above the door in one of the Atlanta Home Depot stores. And then there's more to pleasing customers. When someone walks in who doesn't know the difference between a round wire nail, an oval wire nail or a brad, experienced people in home improvements are there to help. Managers, assistant managers and department heads are all included in training programs, and these are the people out on the floor who help customers find what they need, but also help to determine whether it's really what they need.
And with the latest innovative ways to help and reach customers using WiFi computer services in stores, improving do-it-yourself instructions, YouTube videos and workshops, Facebook, and the photo sharing of Pinterest replacing catalogs and brochures, customers have at their fingertips more conveniences and tons of helpful information to make those home projects turn out as if they were done professionally.