Interview with John Falcone of Sennheiser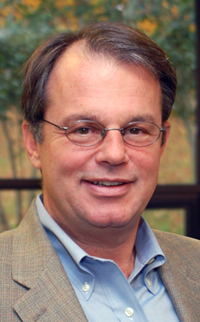 I met John Falcone, who is the President and CEO of Sennheiser Electronic Corporation, a month or two ago while I was in San Francisco (thanks to Mike Faith for introducing us!) and after a quick email exchange, John was nice enough to agree to an interview.
In case you aren't aware, Sennheiser is a major manufacturer of microphones, headphones, and wireless transmission systems. I know about the company because they make my favorite pair of headphones. A bit of background: The company was founded in 1945 in Wedemark, Germany and is still family-owned and the part that John runs is a wholly-owned U.S. subsidiary based in Old Lyme, CT that focuses on sales and marketing of Sennheiser products in the United States.
Here's the interview with John. The style was a bit different than the traditional Q&A style I normally use, so please let me know if you like it or not in the comments.
Our founder, Prof. Dr. Fritz Sennheiser, just passed away at age 98 and left a legacy that defines how and why we do things the way we do. His biography is fascinating and gives great insight as to our history and the man who made it all happen.
Before I came to Sennheiser, I was working for Philips in the consumer electronics market. A recruiter contacted me and asked if I was interested in coming to work at Sennheiser. I wasn't really interested until I had a meeting with Prof. Dr. Joerg Sennheiser, Prof. Dr. Fritz Sennheiser's son. That meeting made me anxious to join his team, and to become part of a family owned company.
We are a family owned company, and our mission of manufacturing high-quality audio solutions is as strong as it was 65 years ago. The Sennheiser family is committed to staying true to this mission over the years to come. The third generation has just stepped into management roles and will carry this mission into the future. While we are global corporation today, the family spirit and quality values of the brand Sennheiser can be felt all around the world.
Music plays a large role at Sennheiser. Due to our strong involvement in pro audio and the music industry, it's natural that many employees are also very talented musicians or music aficionados – thus many Sennheiser internal conferences often end with sizable jam sessions after the official part is done. So when our employees talk to our end users- who are often musicians themselves – it soon becomes an authentic peer-to-peer discussion.
We believe that customers will be loyal to our brand if they are authentically convinced about the benefits that our products provide to them. We are not an aggressive marketing company. Our approach is to listen to our customers and respond with the right solution. We invest much into consulting, service and knowledge transfer– a fairly straightforward and honest approach. Our experience shows that this creates satisfied customers, strong peer-to-peer recommendation and ultimately, loyalty.
Over the past 65 years, Sennheiser has grown not only because of innovative solutions, but also because we have been able to build a strong fan club for the brand. In some of our key business areas we have seen this loyalty being passed on from one generation to the other. This fan club continues to grow.
The key to customer loyalty is building trust. There are several factors that play a role in that: listening to the market and developing the right solutions for our customers' needs, providing excellent customer service, and open, honest and timely communication.
Customer service must go above and beyond what the end-user might expect. We invest a lot of resources into employee training and offer several seminar programs and consultations for our customers. Only if we are a trusted and knowledgeable partner to our customers we can successfully build loyalty.
We created a set of guiding principles some years ago that addresses how we should go about building trust and creating customer loyalty. It's our 3-D Vision and is simple: Delight Our Stakeholders, Deliver Results, and Demand Excellence.
Ensuring the ideal customer experience is a challenge for us. Especially in large retail chains, it becomes increasingly difficult to communicate our brand's value in-store and provide the advice that the end user should ideally receive.  However, we work hard with our retail partners on training their staff or providing in-store tools that help in guiding customers. Additionally, we have a knowledgeable crew of product specialists that answer end user's questions via phone or e-mail, and advise our customers on the best product to use or how to set up their products.
Let's also not forget about the benefits of new media in this context. New media significantly helps us connect directly with consumers. Facebook and Twitter are two examples. We use these tools to engage with end users. There are also many conversations among consumers about product applications on various websites, and our product specialists contribute with valuable insight. The customer of today turns to these vehicles in his research prior to the purchase.
We want to remain accessible and personable and I think the level of direct-to-consumer advice that we provides to our end users is unique. We are pretty accessible via the phone or e-mail. On a personal level–and in line with our 3-D Vision–not one single customer ever contacts me without receiving a personal response from me.
Our roots are in engineering and product development. However, when Sennheiser started to go global in the 70s, we began building a strong network of distribution and service organizations. In the local markets, service and distribution is our focus and expertise while the engineering lies within our headquarters in Germany.
When our sales force engages with customers, service needs are being discussed as much as product benefits. Over the last six years, we have launched a series of "service products". We cover educational services through our Sound Academy series of audio seminars, and we offer product setup services. We conduct customer satisfaction surveys annually to ensure our services and processes meet customer demands.
You can follow John on Twitter here and read a bit more about Sennheiser USA here.