Is customer service more about loyalty or preventing frustration?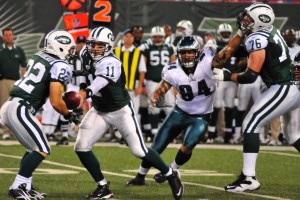 So here we are in the midst of football season, and wherever I sit to watch a game, invariably the question comes up as to whether offense or defense is more important? Of course, in football every yard gained by the offense means the defense has given that yard up, yet it is the offense who has to score. Then again the defense is in charge of keeping their opposition from scoring.
Since customer service is now getting more and more complicated because prices have become so competitive, does it also depend on a better defense or one of offense? In Forbes, "Defense Can be Better Than Offense in Customer Service," there comes a question whether going that extra mile for a customer much like Nordstrom's Department Stores, Zappos, or the Ritz Carlton hotels, actually reap the benefits of the amount of money spent to train the staff, or to give employees the latitude to be able to make independent decisions that can ultimately cost an organization a lot of money?
Matthew Dixon's book, The Effortless Experience: Conquering the New Battleground for Customer Loyalty, contends we should not be searching for loyalty by offering customers the ultimate customer service experiences through expensive programs. Instead of recognizing top customers with promotions and rewards, extensive feedback, or even apology programs,  rather it's less expensive just to focus on "preventing frustration and delay." The less an organization does, the less the cost. Avoid loss by targeting customers who may be leaving and look for ways to keep them before they run over to the competition.
Remember the defensive position is reactive; responding by emails, calls, live chats, and social media with the end result of loyalty. Some say if you strive to make everyone happy, word of mouth increases business while others say just try not to lose customers because it's just too hard to get them back. Should we forget about raising satisfaction scores and just try to avoid the lowest scores so as not to lose customers?
Depending on the position an organization chooses is most dependent on the product or the service offered. No matter which way however, both sides depend on the effectiveness of the customer service department including product knowledge, communication skills, and the ability to take responsibility for their own actions. Personally I prefer the more defensive approach, and have for years appreciated the customer recognition status and associated perks. With products in two different stores being of equal quality and competitively priced, my business would still be at the store with the better recommendations from my neighbors, family, and friends.