Keep Your Cool on the Phone – Part 2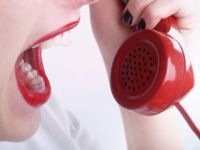 This is part two (part one is here) of the guest post written by Jennifer Harris from Ruby Receptionists.
Some may think it is a good idea to agree with everything the angry caller has to say, "Yes, that is awful, I totally agree 100%." The problem is this can be patronizing and the caller will pick up on that. We have found it is better the only empathize when we really do agree with the caller. It is often easier just to get the caller on your side. "Here is what we are going to do… Why don't we try all of his lines, and if we are unable to reach him, we will leave him a voice mail and a written message that I will mark urgent. That way we attack from two fronts." By doing this you bring them on your side, so the two of you are working together. Then you give them a plan of action, so they know everything about the process, making them feel more in control. Finally, by saying something like this, you are letting them know that you are doing everything in your power to get them what they want and hopefully they will stop being angry … at least with you.
One more trick I like to employ is just to smile. The caller cannot see my smile, but it tends to show up in my voice. No matter how horrible I find the caller, I just keep grinning and even if I do not succeed in cheering them up, at least I feel fine when the call is done.
Sometimes there is just no pleasing a caller. They want to yell, and you are the lucky person who will receive the yelling. Just remember to stay calm, use the tricks above, and if they don't work, end the call politely, when you have done everything you can, and forget about them. If you are able, walk around the block, eat something crunchy (I like carrots), and remember, they are not mad at you, they are mad at their situation and you got caught in the crossfire.
Jennifer Harris works as the sales coordinator for Ruby Receptionists, before which she worked as a receptionist for 5 years, learning all the ins and outs of phone etiquette.