My Free Gift from Despair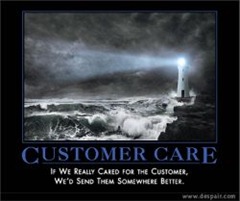 Despair Inc. is an interesting company. They are authors of an interesting book called The Art of Demotivation which is a satire of all the motivational, management type books that an executive can buy. They make a series of interesting posters and products (like the one to the left) called demotivators. The company is most certainly interesting and I've personally sent the book to a couple of people and have received their products as gifts from others.
They openly mock their own customer service (the packing slip has a stamp like thing that says "inspected by: some random idiot") and their attitude towards service might make you dread calling them if you actually have a problem. I had a problem with them and had to call. Here's how my experience went.
A colleague sent me two products from despair – a poster about apathy and a post it note pad about meetings. Both were nice products and nice gifts, but the quality control at Despair (the inspection by said random idiots) apparently did not hold up. The company sent me the wrong thing. I got the correct poster, but instead of the post its about meetings, I got a a plaque about leadership. The packing slip had the correct items on it, but what was on the packing slip was not what was in the box.
So I called the company. Their phone menu was simple enough. I did have to wait on hold with really weird hold music for a few minutes before being connected to a person. The person was friendly enough and looked up my order. He apologized for the mistake and said he would be sending the correct item out right away.
When I asked what I should do with the leadership plaque, he said I could just keep it. It was my gift from Despair. It's probably cheaper for them to let me keep it than it is to get me to send it back, so their intentions aren't purely altruistic. However, it is always nice to get something extra for free.
To think, there are companies that will make you send the product back, even though they'd lose money. What in the world does that accomplish? If you have policies like that, get rid of them.