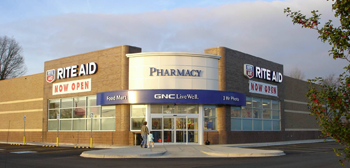 Competition among pharmacy retailers and the need to create more efficient business plans are  a sign of the times. Ten years ago, everyone still had a local pharmacist who would fill prescriptions, give a little professional advice and while mother was at the store, she would buy mascara, shampoo,  a sun visor and aspirin.
Mega-stores such as Wal-Mart and Walgreens have pushed pharmacies to new heights in innovative ideas to keep their customers and attract new ones, hence the age of new conceptions as the  Rite Aid  "Customer World Store."
Rite Aid's slogan, "With us, it's personal" had executives redesigning existing stores and planning to remodel, relocate and build between 800 and 1000 stores in a five-year plan starting back  in 2005. The stores were all designed and recreated using the feedback of customers and customer focus groups that had been developed. So what did customers say they wanted? Solutions were derived from the two most important questions:
How did customers rate the various services?
How important are each of these services?
Customers overwhelmingly asked for easy ways to find what they were looking for at any visit. Everyone has had the experience of walking into a store with a list of what they wanted to purchase, and upon entering the store had been so overwhelmed by confusing layouts and designs of the store, they quickly got discouraged. Using the customer focus groups, the company was  able to concentrate on targeted problems consumers faced, and with that in mind was able to expand merchandise selection, easier store navigation and create a professional feel at the pharmacy that made customers feel more comfortable and secure.
The customer focus group wanted wide and clutter free aisles. In the waiting areas for the pharmacy, they wanted the experience to be more personal and intimate; thus the new design of the section with lowered ceilings, comfortable chairs, televisions and a consultation section for private meetings with a pharmacist. Online shopping has been partnered with drugstore.com to provide more pharmacy service at all different times. Other improvements suggested by the groups included a separate vitamin department, picture center with digital user-friendly equipment, self-service kiosks and stools, and a drive through pharmacy.
The latest store which opened in Edison, New Jersey yesterday has followed the suggestions of the latest focus group. With more than 14,000 square feet, the new store features direct views to each department, more visible department signs and at center stage, a brightly displayed presentation of cosmetics designed to appeal to female customers.
Listening to the customer, adjusting to the needs of the customer and following through on a practical plan to show the customer that they do indeed matter reflects the importance of something more than just a corporate mission statement. The implementation and the fresh approach to enhancing customer satisfaction goes a long way.
photo credit: Rite Aid