Personalize your customer service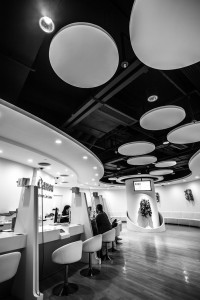 Everyone wants to be treated as an individual with their own specific needs catered to; in the perfect world that's the epitome of "wow" customer service. Of course whether we use one company or service over another usually stems from past reputation, helpfulness, integrity, or a friendly referral. That personal touch is an ever developing finely tuned rapport emanating from new products, discounts, and the knowledge and behavior of those valuable customer representatives who are an integral part of a successful organization.
Where brick and mortar establishments may have an advantage in serving up some initial pleasing customer service as smiling, friendly, and knowledgeable representatives are there to personally greet and meet, Internet and online customers are saved from those sales people who "hover." Who hasn't had the experience of being annoyed by an over zealous employee following you around or seemingly lurking too closely into your personal space even after you informed them you were only browsing? Who hasn't had the annoying experience of a too pushy salesperson? And equally as annoying, is being in a store where there is no visible salesperson to help with a purchase when needed.
Internet sales continue to pull forward. First of all, customers get it the way they like it. Online companies are even making it personal with Facebook and Twitter. Representatives post on Facebook; customers get to reply, ask questions, and learn more about the product without having to find a parking space at the mall. No pushy salespeople, bigger selections, value, and competitive prices. The most competitive organizations even offer free delivery and returns.
So it would seem a valuable key to outstanding customer service would be expected service, but with an unanticipated value that sets an organization apart from others. For instance, a spa service in West Palm Beach is offering tremendously discounted prices in July and August for facials, body wraps, and massages. As a customer walks into the spa, she is lavished with the same topnotch service as would happen at the height of the Florida tourist season. Therefore, besides the value of the expected service  provided, the additional giveaways, complimentary extras, and a thoroughly pampered experience brings that personal touch that incorporates unexpected additional value.
It's still all about building loyalty, and all about taking care of customers.  In 1901, John Nordstrom started with one Seattle store, and his philosophy hasn't changed in over 100 years.  Amazon, Apple, and Zappos continue to hold the top reasons their customer service is so exceptional. Each company continually assesses customer service and views it as a positive challenge, each company's founder has been personally involved, and employees are treated as valuable assets to the company and given the training, knowledge, and trust in their capabilities to bring out the best in each organization.