Physical Self-Service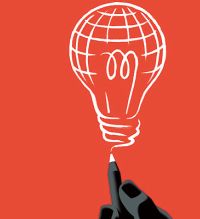 (The end of) customer service made it onto Time's "Top 10 Ideas That Are Changing The World," along with mandatory health, reverse radicalism, and a whole bunch of other seemingly more important issues. Regardless of the editors' views about the importance of customer service as a global change factor, the one page article was interesting.
It focused on how self-service (think self check out, airline kiosks, grocery stores where people buy their own things instead of the clerk going to get it, etc.) is changing business. And Time rightly assumes, what changes business significantly (especially consumer business), does tend to affect consumers significantly. Self-service is here to stay (and become more prevalent) because it saves money for business and gives customers more control.
Time gives an interesting history of self-service. It started in 1902 when the first vending machine-esque cafeteria came about in Philadelphia. People were able to pick their own food and buy it without much help from humans. Piggly Wiggly became the first self-service grocery store 14 years later and completely changed that model around (for good). Self-pump gas stations followed in 1947 and are found in a vast majority of states today. ATMs came about in 1967. In 1995, Alaska Airlines (why them, I don't know) sold the first airline ticket over the Internet. The timeline shows that self-service has been steadily getting more and more popular, spreading both horizontally and vertically across industries, for the last 100 or so years.
Physical self-service and the concept of self-service is interesting. It's definitely here to stay, which makes it a natural topic of interest. The thing that is perhaps most interesting about self-service is that thinking of unique ways to bring self-service to your company is often pretty difficult. It takes some unique thinkers to essentially turn the way something is done around completely. In 1916, the idea of a self-serve grocery store was unheard of. No one thought it would work. Being able to see the potential in that and then being able to make it happen is no easy task. You definitely need unique thinkers.
What are some other examples of self-service that you've seen? What industries have room to provide more self-service? I would say essentially any industry where the average transaction price is low and/or simple has room for more self-service.

Technorati Tags: Customer Service, Customer Service Experience, Customer Service Representative, Time Magazine, Self-Service