Providing the customer service that your customers deserve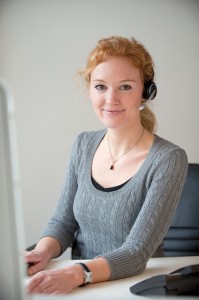 Shopping for products and services are no longer defined by the hours between 9:00 a.m. and 5:00 p.m. The Internet provides convenient and easy access to product information 24 hours a day. It makes research convenient and allows us to compare prices, services, and even to formulate questions we want answered by one of the many providers out there, but what about an organization's customer service? How will they treat me, and what will they do to make sure my needs and my problems are solved?
My first impression of a company might very well be their website, whether I choose to shop online or visit the store at the mall in person. It's quite often a personal decision, as some of us when shopping actually want to feel or try-on the merchandise, view the product personally, or on the other hand, for convenience sake be able to make an informed decision to order the product online. Regardless of how customers choose their shopping venues, outstanding customer service still sets organizations apart from their competition. Here are some time tested suggestions:
Business contact: Customers have grown weary of voicemail and automated responses. They want real people available to answer their questions in a timely manner whether it be by live-chat, phone, email or even giving out a cell phone number to contact someone who can help  solve their problem.
Convenience: Customers want their questions answered when they visit an organization's web site or store, and that means a knowledgeable workforce with up-to-date information and employees who are experts in the products they sell or the services they provide. During peak business time, is there enough of a workforce to provide customers with personalized service?
Consistency: Can a customer count on an organization to deliver the same high quality service each time the customer contacts an organization? Whether the service or product is serviced via the Internet or in person, a customer wants to be able to count on a high level of service and an excellent product. That translates into customer service employees having the best training, knowing their product, and being able to give a customer accurate information as to competitor products and how they compare.
Courtesy: There should never be a rude employee.
Speed: The advantages of technology can provide quick delivery. Just those words "next day delivery" inspires that immediate gratification today's customers expect. Organizations need to deliver faster than their competition.
Honesty: Never misrepresent anything to your customer. The high level of service a company provides makes the difference when it comes to customer retention and customer loyalty. The time honored "underpromise but overdeliver" sets the highest standards for outstanding customer service.
Appreciation: Remember to offer  "thank-you" after every sale and remember to show appreciation to customers by loyalty programs and special discounts. Keep in touch with clients with timely and helpful information which will benefit their lives or even by sending a birthday card to show that people really do matter.
Mobile Access: More people are using their smartphones to access mobile websites and are taking advantage of the conveniences provided as in making reservations or finding the best deals via one's phone now. Keep a customer's mobile experience positive; this trend is becoming more popular.
And a  part of customer service that never grows old, but keeps people coming back for more is an organization's ability to add value to a customer's experience at no extra cost. For instance, a pool company offering to install an extra light to make the aesthetics more appealing at no extra charge, a service company offering to provide an extra service  for no additional charge, or that thoughtful  hotel employee offering a tired traveler a glass of cold lemonade are just the little things that keep customers coming back.