Rate customer service from your iPhone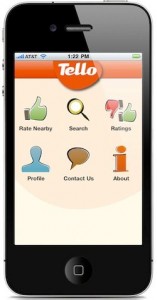 A new customer rating service is now available on your iPhone as Tello officially arrived at the App Store. It can be used to rate nearby businesses in your iPhone geolocation. Once you find or enter a business, you enter the name of the employee you want to rate. A thumbs up or thumbs down icon appears, and if you want to spend a bit more time about your good or bad experience, you can enter a brief comment. The entire experience takes less than 30 seconds. Tello comments can be shared on Facebook and Twitter.
CEO of Tello, Joe Beninato says the service exists primarily to thank employees for their excellent customer service. How many times have we all been to restaurants or bars and have had great service, but there is too much confusion or it's too crowded to search out a manager to give the employee a great review? Maybe you even want to thank the employee at your local dry cleaners who was able to get out that impossible red wine stain out of your favorite sweater. Beninato says Tello also exists to provide constructive feedback.
This isn't the first time we've had customer rating services accompany us in our pockets and purses. There's Yelp which is a web service for rating local businesses also, but seems to focus mostly on eateries. Where Yelp concentrates on the customer experience and a review of the restaurant, Tello focuses on how the customer was treated. Was the wait staff attentive? Were you seated in a timely manner when you arrived for your 7:00 reservations? Gripe, another similar application uses social networking to pressure businesses to improve their customer service.
So what's the future of all of these new services rating services? I tried the Tello app on my friend's iPhone yesterday and only one business showed up. That was disappointing. Beninato says he doesn't want it to conflict with any customer rating services. Rather Tello wants to be the "go to" for businesses as a way of checking on their own success with customer service. Eventually Beninato plans to offer businesses the means to communicate with customers directly. For instance, if you check into a hotel and you're upset that the air-conditioning in the room is not working correctly, you can rate the service. Right now the customer can only contact the business and leave a comment. At some time in the future Beninato hopes the company will be able to get right back to the consumer – hopefully spurring quicker and more efficient customer service.
Pretty soon, we're all going to need the iPhone app to find the correct app!