Sending flowers and customer service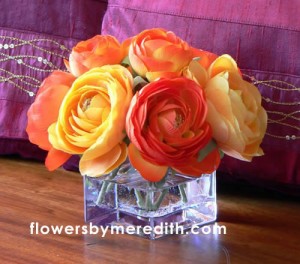 Mother's Day is coming, and with that comes the busiest day of the year for florists. Many of us order our flowers over the phone or the Internet, and since holidays are a one shot deal when it comes to flowers being at their required destination on time, we as consumers hold florists to a high level of "flower" responsibility.
This past Valentine's Day, Washington Post's Melissa Bell stated, "Love hath no fury like a flower customer scoffed." It seems a popular wire service 1-800-Flowers failed to deliver bouquets for many customers creating a plethora of Twitter and Facebook complaints with the fervor of an inevitable doom. Boyfriends, husbands, and significant others complained about flowers not arriving, damaged products, hundreds of botched deliveries, and an acute shortage of customer service personnel. Only a few dissatisfied customers ever received an answer on that ominous February 14th.
The Bradenton Patch's 2012 Reader's Choice Award for Best Customer Service awarded Ms. Scarlett's Flowers and Gifts thumbs up for customer service in a very consumer oriented industry. In an interview, the owner Ryan Bringman reminds us of many of the basic essentials of fine customer service – primarily to always match or exceed customers' expectations.
So what are the most important issues when dealing with flowers and customers? Consumers want their arrangement to look like the picture, they want a competitive price, they want a quality product, and they want their orders to be delivered on time. During Valentine's Day, 1-800 -Flowers, headquartered in Westbury, New York with franchises, owners, as well as  "order takers" were unprepared for the volume of orders and left sweethearts demanding apology notes and refunds.
Bringman says that customer service is what really sets his store apart from everyone else. He is careful about quality control, meaning he uses the best flowers to make his floral arrangements and has adopted the philosophy that the less time spent on talking to the customer about issues, the better the service will be. He claims to be committed to his clients which might mean some bizarre orders like dead flowers, black roses, or baskets for cats or dogs, but if his clients are happy, then Bringman is happy.
Middlemen like 1-800-Flowers may seem convenient, but Bringman says in terms of customer satisfaction it is better to order direct because not only will you get a better product, but the prices are often less costly. He suggests looking up a florist in the city or town you want the flowers sent, and either email or call the shop directly.
The last flower delivery I received from 1-800-Flowers spelled my first name incorrectly and wished me a Happy Birthday when the occasion was to congratulate me on a very difficult real estate transaction which finally changed title. While the flowers weren't meant to be a "love connection," I just can't help imagining the damage a wrong name or occasion on the card could have caused.