Simple Solution: Use different color folders.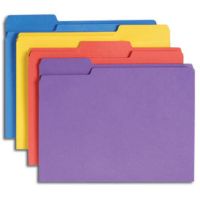 Not too long ago I worked with a company that had to signup a few hundred people n a couple of hours (in person). Since the company has been doing this process every year for some number of years, they've had a chance to refine and improve it over time. The setup and the process they have is pretty interesting.
First of all, everyone is mailed a packet before they arrive. The packet has all the paperwork, a checklist, and all of the information they need. It's kept pretty simple and the packet is constantly revised and simplified. The point is to have as much stuff completed before the people come to the physical location to actually complete the registration process.
Once they're on site, they wait in line in a big room. There is an employee near the front of the line who directs people waiting in line to the processing people as they become available. If the person needing to have his or her paperwork processed is "special" for one reason or another (about 15% of people need to have some extra paperwork for one reason or another), then they're directed to a person who specializes in that.
The nifty thing about the process is that the people the company knows are going to be unique cases have a different color folder. That way, the employee directing people knows right away if the next person in line is going to need to see the specialist or if that person can just go to one of the other processing people. All employees knows a little bit about the particular person by the color of his or her folder. It's a simple way to ensure that people that will need to be there longer or have more complicated circumstances are directed to the right place.
This sort of process and thinking can obviously be applied elsewhere. Employees can give new customers, new employees, consultants, VIP customers, etc. to tell them apart from the normal person working or visiting the office. It's just a simple way of thinking and working that can make a big difference (much like the clipboard system I talked about recently).