Support.com Experience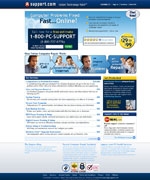 I recently gave Support.com's $59 System TuneUp service a try. Basically, a support representative goes through your computer using remote connection software (very similar to how Webmail.us did it). They do some tuneups and fixes to make your computer faster and work more efficiently.
The service competes with extra services provided by computer manufactures (see this interview with Janice Liu from HP for details about their offerings) and of course the services that the Geek Squad provides (interviews here). Support.com is strictly phone / Internet based, so they can't really fix hardware issues.
Support.com has technicians based in their Syracuse, NY call center. It is all US based and the company (SupportSoft) started offering consumer services in December of 2006 or so. Before that, they made remote help support. The company is relatively small and has about 15 technicians on the floor at any given time, depending on the time of the day, etc.
When you call Support.com's 1-800 number, you are automatically connected to the person that will be helping you. There was no hold time and I was surprised at the lack of menus.
After the technician collects your billing information, etc., you download the software and get it setup. The download and installation process wasn't quite as simple as the software that Webmail.us used (Fog Creek Copilot) and took a bit longer. It wasn't complicated, but was slightly more involved. The software doesn't work with Firefox, which is disappointing.
The agent who helped me (Ryan) was friendly and seemed to know what he was talking about. He took a conservative approach (as opposed to going in and deleting a whole bunch of stuff), which I personally prefer. Ryan did a good job at avoiding dead air during the conversation, which is one of the biggest challenges during technical support calls.
My computer is running faster and the only problem I had was with Mozilla Firefox. When we uninstalled an older version of Mozilla Firefox, it uninstalled both the old version and my current version. It was really easy to get Firefox working again – I just had to download it and reinstall it. I could have called Support.com to have done that, but didn't need to.
Ryan told me that Support.com's most popular services included Spyware Removal ($79), Comprehensive Problem Resolution Service (they fix a problem for $39 or $99, depending on the issue). All fees are flat rate and Support.com guarantees that the problem will be fixed.
I liked how Support.com has customer reviews and feedback posted at https://www.support.com/reviews. At https://www.support.com/incidents, they also show some of the most recent problems fixed. The transparency is a nice touch.
After the experience, I filled out a simple survey. For some reason, Support.com sent me 12 emails. No idea why I got an extra 11 emails, but that did happen.
I'm pretty good about keeping my computer clean and working well, so I'm not sure if I would use this service. Would I recommend it to someone who doesn't know that much about computers? Definitely. Support.com is a wise choice for someone who wants to fix their computer up from the convenience of their home.
Disclosure: I received the System TuneUp service from Support.com for free. I have no experience with any of their other services.