The Embroidery Adventure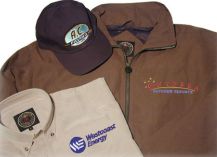 I spent over an hour and several phone calls today trying to find a place that could embroider a logo and two lines of text on a polo shirt for a reasonable amount of money. After several phone calls, several quotes, and an hour or so, I decided I'd stop wasting my time and just pay the money. In the process, though, I learned a few things that I can pass onto you.
Explain the process.
I'm not sure about the average customer, but I knew essentially nothing about embroidery. I (stupidly) assumed you could bring in your logo on a flash drive, tell them what you wanted, and leave with a shirt in 15 minutes. I was totally wrong. They need the logo, they have to digitize it (a process that they charge you like $40 – $80 for), and then they need a few days to actually embroider the shirt. Some companies buy the shirts for you, others won't. The point is the process isn't super straight forward and none of the companies I talked to explained it on their web site. They assumed I knew a lot more about the process than I did. Never underestimate the value of a "dumbed down" page on your web site that explains what you do and how it all works.
Communicate expected times.
As mentioned above, the process of digitizing a logo is a bit tedious and also the most expensive part of the process (at least when you only need a couple of items embroidered). There was no set fee at any of the companies I called for digitizing. Instead, I had to email the logo to each one of them and wait for a quote. At one company, the guy called me back after a few minutes, at another, the lady emailed me after a few hours, and with others, I still haven't heard from them almost a full day later. When you ask a potential customer to spend time to send you information required to produce a quote, be sure to communicate how long it'll take to get that quote.
My two generic collared shirts ended up costing about $60 each, between the actual shirt, the embroidery fee, and then the "setup fee" for the embroidery. For my $120, I'll get my two shirts and now I'll know about the process of embroidery. Maybe it was worth it after all.

Technorati Tags: Customer Service, Customer Service Experience, Embroidery