The Five Dollar Way to Encourage Accountability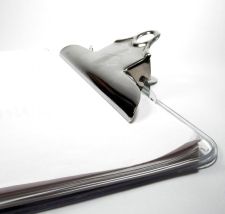 Accountability is an issue that manages to confuse and perplex companies of all sizes. It's tough to encourage accountability and forcing accountability among employees and departments is tricky at best. However, the other day I saw an amazingly simple, but also incredibly effective system for encouraging accountability and even communication among a group of employees.
The place was a local restaurant that is a mix between fast food and a sit down restaurant. As such, it sees a lot of traffic. I went to use the bathroom and noticed there was a clipboard on the wall that said "bathroom cleaning log." On it, the various employees who had cleaned the bathroom wrote their name, the date, and the time they had finished. It was inciredbily simple, but also very effective.
As a customer looking at the log, I could tell the bathroom had been recently cleaned. As an employee, I could tell that same information, but also who did it last. This information can also be helpful to supervisors, other employees, or management ("the bathroom was spotless – great job!" or "the bathroom was distugusting – did you even clean it?").
The beauty of this system is that it's a simple system of accountability to all. Sure, the list could be placed in the staff lounge, but then employees might forget and would have to go out of their way. It could be communicated via radio ("It's me, Bob, I just finished cleaning the bathroom."), but then it isn't recorded and the accountability is not as noticeable. Both of these options also make it so customers have no idea when the bathroom was cleaned, either. The option they chose is a great solution.
Simple systems of accountability, using just a clipboard and a pen, have the power to do a lot more than people think. Depending on your company, there are plenty of opportunities and places where you can implement similar systems. Think about them and see what you can do.

Technorati Tags: Accountability, Bathrooms, Customer Service