The Flight Attendant Who Said Too Much!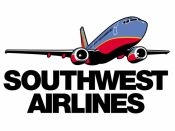 I was made aware of an interesting article about a Southwest Airlines flight attendant who clearly said too much. She told a passenger she was dressed inappropriately and would have to leave the plane before it took off. The flight attendant obviously wasn't thinking about what she was saying, or she was just stupid.
Southwest's and the flight attendant's actions were not typical of Southwest. If you do have a problem like this, how do you stop it from becoming a big issue?
If you aren't sure, ask.
Before kicking the woman off of the plane, the flight attendant should have asked another flight attendant for his or her opinion. The flight attendant could have also Southwest's corporate offices and asked for a suggestion. My general suggestion to companies is to encourage their employees to ask if they aren't sure.
Use discretion if you are going to say something.
If you are going to say something, you need to use discretion. You can't call the customer out in front of everyone. That isn't the way to ensure a smooth experience. If you have to say something to a customer that isn't positive, then you really want to use discretion.
Be ridiculously polite.
Once you have used discretion and have asked the customer to come to the side, go to another room, etc., you need to be very polite. The flight attendant saying Southwest is a "family airline" and that the passenger is not dressed appropriately is not ridiculously polite.
If possible, offer an alternative.
As pointed out in the article, a flight attendant could have offered the customer a jacket, a blanket, or asked her to change the outfit a little. If you are going to do something as serious as kicking a customer off the plane (basically firing the customer), you need to offer an alternative.
If you do screw up, admit it.
Southwest screwed up. However, they didn't admit it. If they apologized to the customer, sent her a nice letter and a nice travel voucher, the entire issue would have gone away. However, they didn't admit they were wrong and as such, it's on the news and the airline is probably going to get sued.
Thanks to Maria for initially posting about this.