The Fundamentals of Company Intranets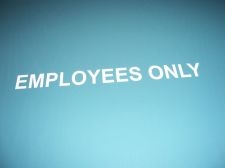 I am working with a great company that has an interesting company intranet. Some things about it are really good – others are not so good. It is obvious the company has put a lot of time and effort into designing a useful and effective intranet, but of course, there is room for improvement.
Intranets are really tough to do well. There is a big business around intranets – the creation of them, the software behind them, the maintenance of them, etc. Lots of companies are involved in the business of intranets and making them work. Why? Because when intranets are used effectively, they are incredibly useful.
This company's intranet has some good things:
Lots of tools.
The intranet had a lot of tools. The tools allowed employees to do things ranging from technical troubleshooting to accounting and everything in between. The tools seemed well designed, useful, and practical. These are great, especially if they are being used by employees.
Integrated with wiki.
Instead of typical, static pages, this company has a useful wiki. Mileage varies a lot when it comes to wikis and this company seemed to be in the middle. However, an effort to make use of a wiki and encourage its use is an excellent start.
Homepage features.
The homepage of the intranet is very simple. It features the navigation bar, the most recent posts from the company's customer forums, and news (in that order). I really like how the company includes the most recent posts from the forums. This really encourages staff to participate and at the very least, stay informed about what's going on.
However, they need to improve in some of these areas:
Organization.
This is the problem with most intranets. They just aren't organized as well as they could be. This company needs to work on improving the organization of their intranet. Some possible ways to do that include:
Changing navigation structure and methods.
Listing of all pages (so employees have an idea about what's there).
"Introduction to Intranet" page explaining how to get the most out of the intranet and its features
Asking (and paying) a competent, longtime employee to work another 10 or 15 hours to re-organize the intranet.
Broken links.
Like any extensive web site that is likely updated by a lot of people, there are broken links and pages that don't work. These should be removed or fixed regularly or navigating the intranet can be a pain.
Fun.
This depends on the company, but this company's intranet talks about work and the job only. Talking about some non-some work things in your intranet can be really helpful. Talk about places employees like to hang out, hobbies everyone has, etc. Not only will these lighten the mood up a bit, but it may encourage employees to check it out more frequently and get to know their co-workers.
What do you do with your intranet that's unique?
Photo courtesy of antigone.